Change of customer expectations drive investment of venues and venue infrastructure
• "The venue of the future: enabling the perfect customer journey", 23-24 March 2017
• All interested professionals welcome
Paris, 15 March 2017 – What are the latest techniques that venues are using to provide a positive experience for visitors and exhibitors – and gain the competitive edge? Leading venue operators will share their solutions at a networking event organised by UFI, the Global Association of the Exhibition Industry, on 23-24 March in Utrecht (the Netherlands).
Entitled "The venue of the future: enabling the perfect customer journey", the event is open to UFI members and non-members. It comes at a time when venues are increasingly expected to focus on customer satisfaction and the visitor experience, rather than simply providing a space.
Salvador Tasque, Director of In-House Business at Fira Barcelona, and Vice Chair of UFI's Operations and Services Committee, describes the event as: "The place to be if you really want to understand how to create a new level of customer experience in our venues and see where the future challenges will be."
Highlights include an announcement of three initiatives shortlisted for UFI's prestigious Operations and Services Award 2017, celebrating innovation in creating "the perfect customer journey". The winner will be voted onsite by the 60 or more delegates, who include top and middle managers specialising in operations and services within venues, as well as associated service providers from Europe and beyond.
In an easy-to-access venue, the two days combine international idea-sharing with high-level networking opportunities. Interactive sessions will explore how to ensure customer centricity while keeping a close eye on the bottom line. Here are two examples from the programme's range of hot topics:
– "Technology is changing expectations: How to use it to your advantage": A presentation by Friedrich Ostermann, Partner and Digital Architect at the management solutions specialists IPM United GmbH. Insights into how venues can use technology to improve the working day – both for the venue staff, and the customers.
– "What makes a venue appealing – through the eyes of the customer": A diverse mix of exhibition organisers will share the key factors that they are looking out for when they select the venue that will ensure that perfect customer journey for their customers.
UFI Operations Director Sonia Thomas says: "Venues continuously evolve to ensure customers have a valuable, memorable experience, so they'll rebook in the future. UFI's meeting will be an exciting chance to get up-to-date with the latest techniques, and offer a platform to network with industry peers."
It is still possible to register for a few remaining places. They will be allocated on a first-come-first serve basis.
The venue of the future: enabling the perfect customer journey – UFI Operations and Services Focus Meeting: 23-24 March 2017, Venue: Supernova (Jaarbeurs Conference Center), Jaarbeursplein, NL 3521 AL Utrecht. For more information visit the website: www.ufi.org
UFI announces 2017 Global Congress theme: "Raising the Odds – Pressures and Profits in the Exhibition Industry"
"Raising the Odds – Pressures and Profits in the Exhibition Industry"

Gathering 400+ delegates from the exhibition industry worldwide

Taking place 1-4 November 2017, Johannesburg (South Africa)
Paris/Johannesburg, 1 March 2017 – UFI, the Global Association of the Exhibition Industry, has announced the theme of this year's UFI Global Congress: "Raising the Odds – Pressures and Profits in the Exhibition Industry".
The event takes place 1-4 November 2017 in Johannesburg (South Africa).
UFI's Global Congress, is the most international annual gathering in the exhibition industry, open for UFI members from around the world. It brings together hundreds of organisers, venue operators, service providers and industry associations from over 50 countries.
With the exhibition industry showing signs of optimism despite global political turbulence, UFI decided on an economic focus for its UFI Global Congress 2017.
Kai Hattendorf, UFI Managing Director and CEO explains: "Huge investments are being made in exhibitions and events, and economists predict that the exhibition industry will outgrow global economic growth. But at the same time, economic growth has slowed. Politically, protectionism is on the rise. And operationally, digitisation is driving ever-faster change within organisations."
"UFI's 84th Global Congress in Johannesburg offers our members a vital chance to find solutions, stay ahead, keep in touch with exhibition industry colleagues worldwide," says Hattendorf.
UFI unveiled its 84th Global Congress 2017 theme at a "Meetings Africa" press conference in Johannesburg.
Representing the world's leading tradeshow organisers and exhibition centre operators, UFI counts 83 UFI members in Africa and the Middle East. The organisation expects exhibitions to develop in Africa as economies across the region become stronger and more diverse.
Craig Newman, CEO Johannesburg Expo Centre, local host for the Congress, says South Africa is the perfect place for this year's UFI Global Congress. He says: "Africa is often cited as role model for pragmatic solutions in difficult situations, and for our can-do spirit. We'll certainly live up to the occasion. Whether for the sessions, or the networking events – this will be an event to remember, and I personally want to invite everyone to free your diaries and come to Johannesburg."
UFI's Global Congress enables its members from all continents to meet and gain insight into topics of strategic interest, current trends and challenges for the exhibition industry. Each year it is held in a different region.
Johannesburg follows Shanghai (China) in 2016, and Milan (Italy) in 2015. The 2018 Congress is scheduled for Saint Petersburg (Russia).
The 84th UFI Global Congress takes place at the Sandton Convention Centre in Johannesburg, on 1-4 November 2017.
The congress programme will be announced soon. General information is already available at www.ufievents.org. You can find destination specific information at www.ufijoburg2017.co.za.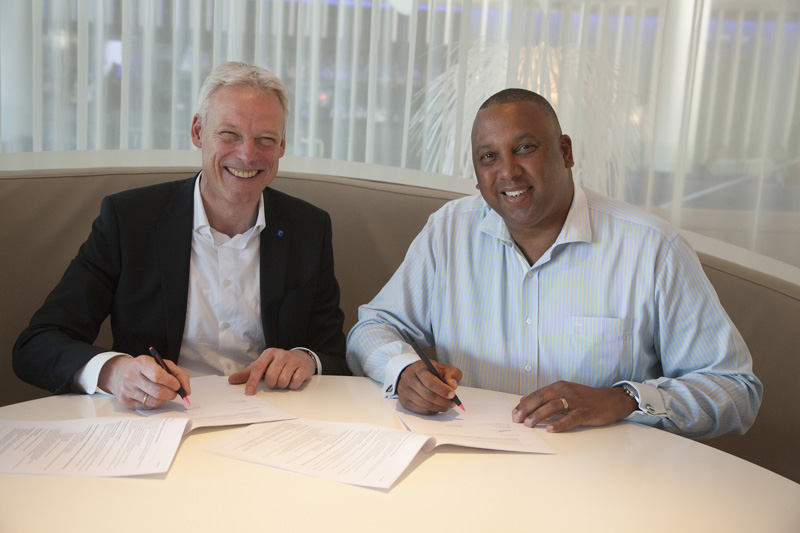 Dr Andreas Gruchow, UFI President and Craig Newman, CEO Johannesburg Expo Centre signing the congress hosting contract.
Archive
Download previous media releases.