Join the the #UFIchat with questions around the exhibition industry. We will use our community to address your issues.
Where: Use hashtag #UFIchat and any Twitter chat tool! (TweetChat, for example)
When: 8 February 2018 at: 10am New York, 5pm London and 6pm Paris.
Topic: Focus on HR & its changing role in exhibitions
In a recent blog, One of the Five Trends for 2018, UFI's Managing Director, Kai Hattendorf sited the quest for talent and skills in the exhibition industry.
UFI's President, Corrado Peraboni, has prioritized exploring and finding new ways to connect young people to the exhibition industry. This includes outreach to schools and universities to raising more awareness about the career opportunities our industry offers,  and getting in front of young professionals as they choose their career paths, ensuring exhibitions are publicized as an exciting alternative.
Unfortunately, young professionals do not see the exhibition industry as the diverse, fast moving and exciting working place that it is. Last year's GED17 shared overviews of core job profiles in the industry and included individual insights and quotes from industry members. Infographics, videos and pictures were produced and distributed online.  This year's GED18's will focus on increasing awareness outside of the industry and attracting new talent to exhibitions.
To this end, UFI is producing the first annual Educational Forum on HR Management taking place February 27-28 in Kuala Lumpur, Malaysia. As the only event that exists for HR managers in the exhibition industry, it provides a platform or HR managers to engage, network and learn like never before.
Another first is the UFI HR Award, open to companies that have successfully developed a program for staff to evolve, based on the role of HR as Business Partners. The deadline for nominations is 19 March.
Lastly, the next #UFIChat focuses on the changing role of HR, recruiting and retaining talent in today's digital world, and how the next generation thinks we can better communicate our message. Please join UFI's Sonia Thomas, Eleonora Robuschi, Angela Herberholz, and Diana Salman, #NGLGrant winner 2017 from IFP, along with moderator Stephanie Selesnick for the next #UFIChat. It takes place on Twitter Thursday, Feb. 8 at 5pm GMT.
Previous #UFIChats
December 2017 #UFIChat, Global Exhibitor Insights Study and Exhibitor Net Promoter Scores (NPS). Here is the overview.
November 2017 #UFIChat, Recruiting International Pavilions with Nick Dugdale-Moore and veteran pavilion producer Jerry Kallman, Sr. Chairman of Kallman Associates. Here is the overview
October 2017 #UFIChat, Apple changes to its App guidelines will affect event App strategies substantially. Here is the overview.
September 2017 #UFIChat, Sustainable Growth – smart exhibitions with #NGLgrant winner. Here is the overview.
August 2017 #UFIChat, UFI Global Exhibition Barometer – latest findings. Here is the overview.
July 2017 #UFIChat, Raising the Odds – Pressures and Profits in the Exhibition Industry. Here is the overview.
June 2017 #UFIChat, Why we need Global Exhibitions Day! Here is the overview.
April 2017 #UFIChat, What do you think is the future of Exhibition?
March 2017 #UFIChat, Educating the next generation of exhibition professionals with  Joyce DiMascio @dimasciojo from EEAA, Farokh Shahabi @exavir #NGLgrant winner 2016 and Angela Herberholz @A_Herberholz from UFI. Here is the overview.
February 2017 #UFIChat , 2017 Industry trends and their possible impact on the global exhibition industry with Kai Hattendorf, Danica Tormohlen @DanicaTormohlen from Trade Show Executive @TradeShowExec (USA), Octavio Neto, @octavinhoneto CEO of Grupo Radar @portalradar (Brazil) and Tom Hall from Exhibition World @ExhibitionWorld (UK). Here is the overview.
January 2017 #UFIChat with Kai Hattendorf (@kaihattendorf), MD & CEO of UFI, Glenn Hanson (@GlennHBPA), President & CEO of BPA Worldwide, Harald Koetter, Director of PR & Trade Fairs Germany Division at AUMA and MD of FKM, the German organisation for auditing exhibition data and other UFI-member experts, here is the overview.
November 2016 #UFIChat with Mark Brewster from @explori and @chris_druart, UFI Research Manager about the Global Visitor Insights report, here is the overview.
October 2016 #UFIChat with @marcogiberti, Founder & CEO, Vesuvio Ventures (USA), @alevental, Co-Founder and President of Feathr (USA) and @AidanAugustin, Co-Founder and President of Feathr (USA), here is the overview.
September 2016 #UFIChat with the #NGLGrant winners, here is the overview.
Facebook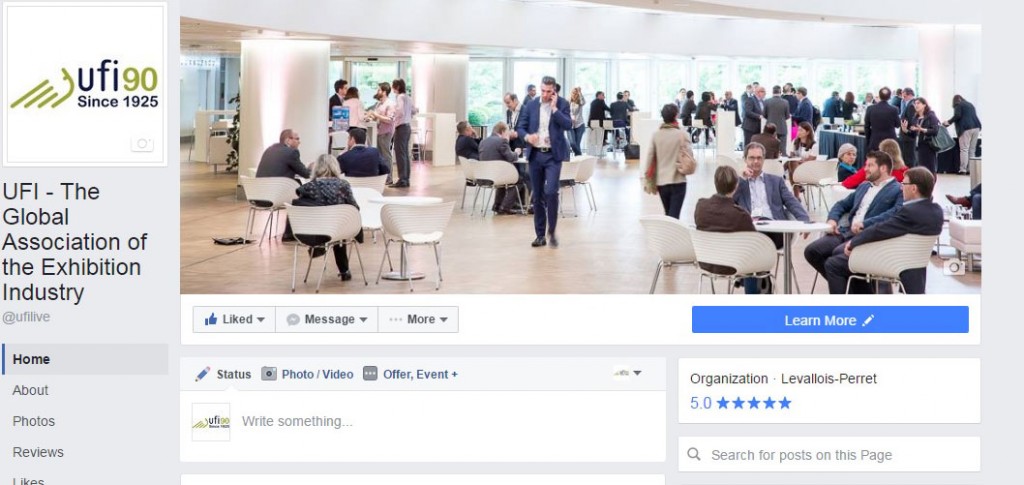 WeChat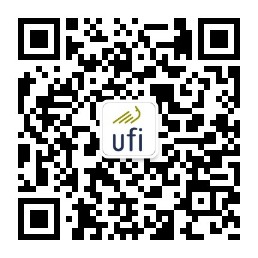 LinkedIn Groups
UFI, The Global Association of the Exhibition Industry