Join the the #UFIchat with questions around the exhibition industry. We will use our community to address your issues.
Where: Use hashtag #UFIchat and any Twitter chat tool! (TweetChat, for example)
The next UFI Chats are as follows:
UFI Global Exhibition Barometer – latest findings
When: 22 August 2017: 16:00 Paris  / 10:00 New York / 07:00 Las Vegas
The UFI Global Barometer survey has been measuring the pulse of the exhibition industry since 2008. The 19th survey was conducted in June 2017 and answered by 257 companies from 56 countries. The results were released in last month and detail 14 geographical zones, including 10 major national markets.
Our special guests this month are both from UFI, The Global Association for the Exhibition Industry: Kai Hattendorf (@kaihattendorf), Managing Director and Christian Druart (@chris_druart), Research Manager.
With such a large and comprehensive report (52 pages), we only have time to focus on some selected findings. The survey may be found here.
Sustainable Growth – smart exhibitions
14 September 2017: 16:00 Paris time / 07:00 Las Vegas time
#UFIChat – A Conversation with the 2017 #NGLgrant winners
Talent. It's one of the hardest things to find, and once found, it is important to nurture. Join us as some of our #NGLGrant winners talk about the industry, and highlight a selection of careers and career paths. The next generation of leaders is already here – working in our companies and organisations.
What can we do to attract more talented young professionals and get the word out about opportunities in our industry? How do we help them access the right skills and incentives to stay in exhibitions? Do they want mentors or promoters? More education? More flexibility? More opportunities for growth – and if so what kind?
Don't miss this opportunity to learn from these young professionals!
Confirmed guests:
Selin Cakici, Vice Chair of the board, HKF TRADE FAIRS (Turkey)
Neo Mahlatlole, Business Development, Seven Colours Communications (South Africa)
Katharina Keupp, Project Consultant, Messe Munich (Germany)
Thomas Revell, Sustainability Manager GES (UK)
Diana Salman, HR Strategic Change Manager IFP Expo (Lebanon)
Previous #UFIChats
July 2017 #UFIChat, Raising the Odds – Pressures and Profits in the Exhibition Industry. Here is the overview.
June 2017 #UFIChat, Why we need Global Exhibitions Day! Here is the overview.
April 2017 #UFIChat, What do you think is the future of Exhibition?
March 2017 #UFIChat, Educating the next generation of exhibition professionals with  Joyce DiMascio @dimasciojo from EEAA, Farokh Shahabi @exavir #NGLgrant winner 2016 and Angela Herberholz @A_Herberholz from UFI. Here is the overview.
February 2017 #UFIChat , 2017 Industry trends and their possible impact on the global exhibition industry with Kai Hattendorf, Danica Tormohlen @DanicaTormohlen from Trade Show Executive @TradeShowExec (USA), Octavio Neto, @octavinhoneto CEO of Grupo Radar @portalradar (Brazil) and Tom Hall from Exhibition World @ExhibitionWorld (UK). Here is the overview.
January 2017 #UFIChat with Kai Hattendorf (@kaihattendorf), MD & CEO of UFI, Glenn Hanson (@GlennHBPA), President & CEO of BPA Worldwide, Harald Koetter, Director of PR & Trade Fairs Germany Division at AUMA and MD of FKM, the German organisation for auditing exhibition data and other UFI-member experts, here is the overview.
November 2016 #UFIChat with Mark Brewster from @explori and @chris_druart, UFI Research Manager about the Global Visitor Insights report, here is the overview.
October 2016 #UFIChat with @marcogiberti, Founder & CEO, Vesuvio Ventures (USA), @alevental, Co-Founder and President of Feathr (USA) and @AidanAugustin, Co-Founder and President of Feathr (USA), here is the overview.
September 2016 #UFIChat with the #NGLGrant winners, here is the overview.
Facebook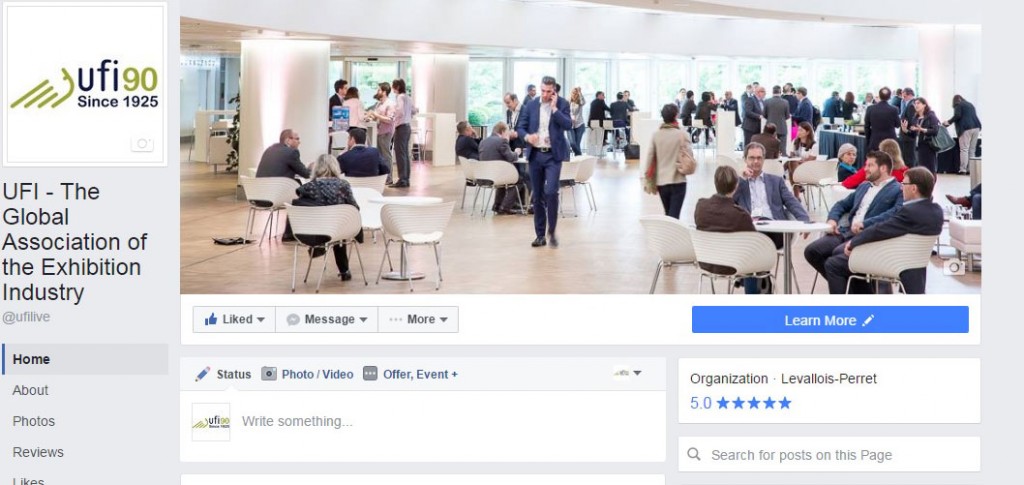 WeChat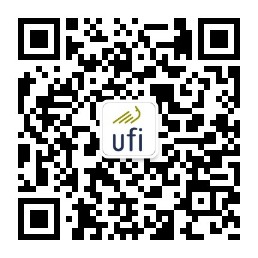 LinkedIn Groups
UFI, The Global Association of the Exhibition Industry