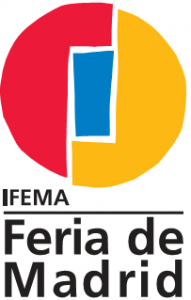 The theme of the UFI Social Media Focus Meeting and the 2011 ICT Award theme, was "best practices of social media within the exhibition industry."
Finalists IFEMA (Spain), Poznan International Fair – Cavaliada (Poland) and Reed Exhibitions – Reed POP (USA) pitched their programmes to a critical jury of Social Media Focus Meeting participants from 17 countries and placing first, second and third respectively.
Pelayo Santos, Project Manager of IFEMA's winning entry, enthusiastically acknowledged their win saying, "UFI recognition of our work is a great motivator!"
Left to right: María Martínez (IFEMA), Pelayo Santos (IFEMA), Werner Krabec (Chair of UFI's ICT Committee/Messe Düsseldorf GmbH).
UFI is delighted to honour "The Milton Graduates Trainee Programme" (MGTP) as the winner of the 2014 UFI Education Award. The selection of the MGTP programme recognizes that operational efficiency and creativity can indeed go hand-in-hand. Enrica Baccini, Chair of the UFI Education Committee, applauded the high level of the entries received, adding, "The continuing education and training of exhibition professionals remains a critical issue for organizers, venue managers and service providers around the world". The quality of the projects submitted for the second UFI Education Award competition was outstanding, highlighting a variety of very different initiative options.
Download the Presentation