Globally, there are approximately 31,000 exhibitions each year, featuring 4.4 million exhibiting companies and attracting over 260 million visitors.
Exhibitors and visitors combined spend around 98 billion € (109 billion US $) every year on exhibitions, making exhibitions a significant global industry.
In 2017, the total number of venues with a minimum of 5,000 sqm of indoor exhibition space around the world was 1,212 and the total indoor exhibition space reached 34.8 million sqm. This is an increase of 1.3% on average each year since 2011. Additional venue space has become available in almost all regions of the world and substantial venue investments and upgrades have taken place to increase venue capacities.
680,000 FTE (full time equivalent) work in the exhibition industry directly.
When adding the direct impact on other 'tourism related' activities, i.e. transport, accommodation, food and beverage etc., 1.8 million FTE jobs are created or maintained.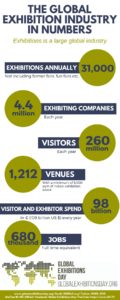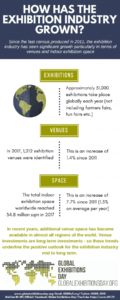 The Global Exhibition Industry in Numbers
How has the Exhibition Industry grown?
Source: UFI (2018).