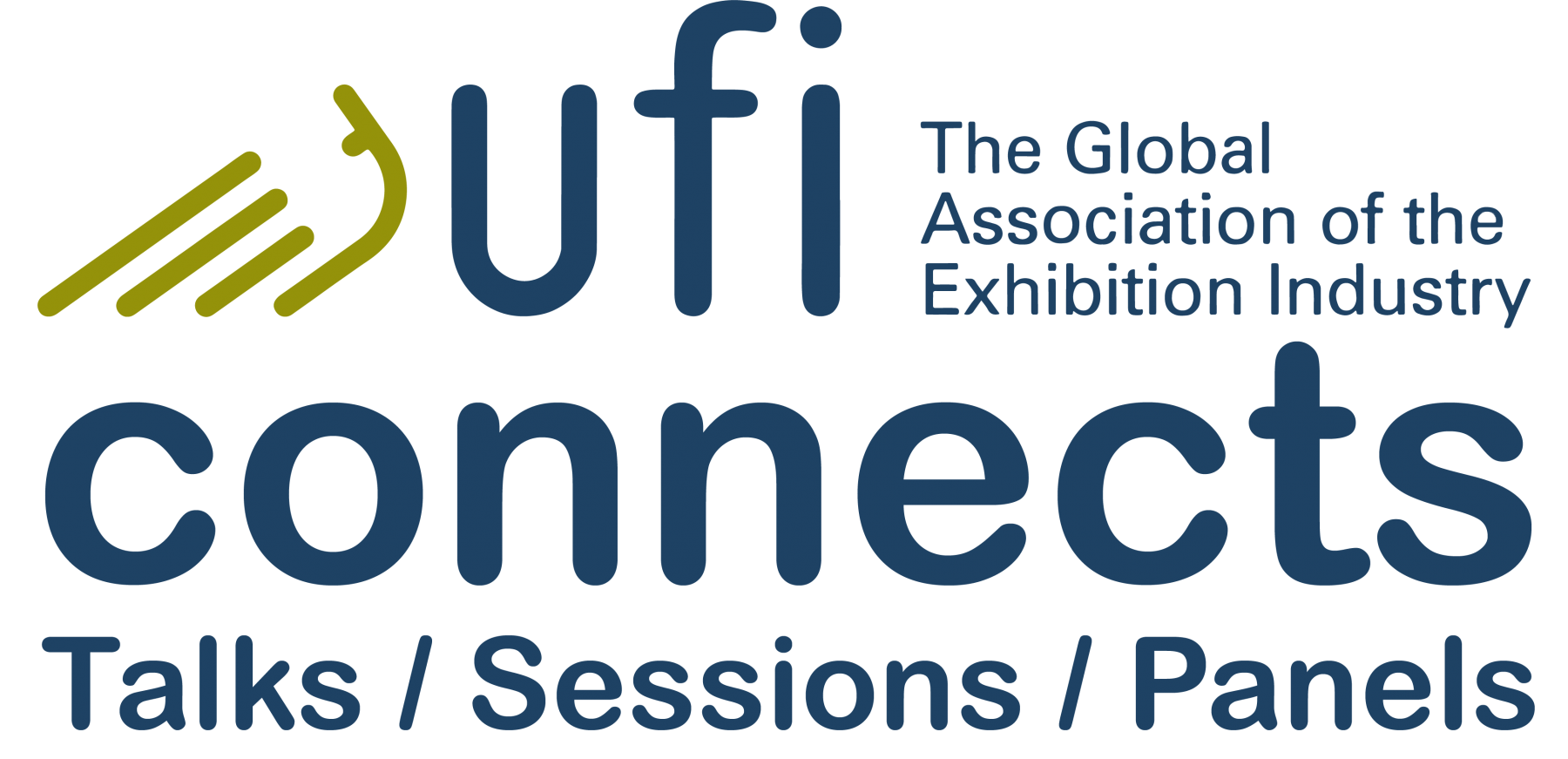 The COVID-19 pandemic keeps us as industry professionals apart. But the need to talk, to discuss, and to learn is bigger than ever.
That is why we have launched "UFI connects".
As our industry's global association, we are working to support our members and the industry at large through this unique time. The recovery of the world's economies will rely on our companies, our skills: We will need to build and run the market places and the meeting places for industries and expert to come together again.
UFI connects is a way to stay connected, to get through this pandemic, and to be ready for the time afterwards.
It is a programme of regular talks, panels, and webinar sessions – organized by the UFI team for you. Sessions are free of charge for industry professionals
We will run regular programmes online – to stay up to date, please bookmark this page.
We make recordings of the sessions available online at ufi.tv here
Our next sessions are:
Thursday, 16 July – 8am NYC / 1pm UK / 2pm Paris / 4pm UAE / 8pm HK time

"Female Leadership in the Exhibition Industry: Driving Change"

With:
Mary Larkin, UFI President and President of Diversified Communications, USA
Simon Kimble, Executive Chairman, Clarion Events Ltd., UK
Margaret Ma Connolly, CEO, Informa Markets – Asia, Hong Kong, PR China

Moderated by:
Kai Hattendorf, UFI CEO
Sonia Thomas, UFI COO

Watch all UFI connects sessions on demand here:
Wednesday, 8 July
"Voting of the 2020 UFI Digital Innovation Award Winner"
With: Baptiste Boulard, CEO, Swapcard
Tim Groot, CEO & Co-Founder, Grip
Maciej Kautz, Superexpo.com Representative, Superexpo
Moderated by:
Stephan Forseilles, Head of Technology and Digital Transformation, Easyfairs International, Vice Chair of UFI Digital Innovation Working Group
Silke Hoersch, Executive Director Marketing and Business Development, EMEA, Ungerboeck Software International, Member of UFI Digital Innovation Working Group
Matthias Tesi Baur, CEO, MBB-Consulting Group, Chair of UFI Digital Innovation Working Group
(Video available here)
"The Role of Business Events for Economic Recovery. The JMIC Manifesto – Part 1"
With: Professor Greg Clark
and business events industry leaders
(Video available here)
"The Role of Business Events for Economic Recovery. The JMIC Manifesto – Part 2"
With: Professor Greg Clark
and business events industry leaders
(Video available here)
Thursday, 2 July
"Get ready to restart"
With: Athena Gong, Managing Director, Informa Markets China (China)
Claudia Sagripanti, Chief Executive, EEAA – Exhibition & Event Association of Australasia (Australia)
Marina Tamagnini, Communication & Public Affairs Director, Fiera Milano (Italy)
Tomasz Kobierski, Chairman of the Board, Grupa MTP (Poland)
Moderated by:
Nick Dugdale-Moore, UFI Regional Manager – Europe
(Video available here)
Tuesday, 23 June
"Retomada das Feiras"
With: Adele Bartolucci, General Manager, Transamerica Expo Center
Helvio Pompeo Medeira, President, Febratex Group
Mariane Ewbank, Director, Fulstandig Shows e Eventos
Juan Pablo de Vera, CEO, Grupo R1
Malu Sevieri, General Manager, Emme Intermediaciones, Partner of Messe Dusseldorf
Joao de Nagy, Vice-president, Ubrafe
Joao Paulo Picolo, CEO, NürnbergMesse Brazil
Moderated by: Nick Dugdale-Moore, UFI Regional Manager Europe
Session in Portuguese
(Video Available here)
Thursday, June 18
"The 3 secrets to selling events now"
With: Helen Harlow, Director, Benchmark Collective (UK)
Raoul Monks, Founder & Director, Flume Sales Training (UK)
Han Leenhouts, Owner, Sales & Pepper (Netherlands)
Moderated by: Nick Dugdale-Moore – UFI Regional Manager Europe
(Video available here)
Wednesday, June 17
"The Middle East in the Brave New World:
Geopolitics, China, Oil, Covid and beyond"
With: Dr. Eid-Oakden, CEO and Chief Economist, Arabia Monitor (MENA)
Moderator: Naji El Haddad – UFI Regional Manager for MEA
(Video available here)
UFI connects – revisited

"Talent Development via Continuous Learning and Empowerment"
with: Margaret Ma Connolly, CEO, Informa Global Exhibitions (Hong Kong)
from at the UFI Asia-Pacific Conference 2019 – Tokyo (Japan)
(Video available here)
Wednesday, June 10
"Female leadership in the exhibition industry:
How to help women be more successful professionally?"
With: UFI President Mary Larkin, President of Diversified Communications USA
Debbie Stanford-Kristiansen CEO of Novo Cinemas in the UAE
Cliff Wallace, Senior Executive Advisor of Shenyang New World EXPO,  CEO of CW Venue Advisory Services LLC and former UFI President
Moderated by: Sonia Thomas, Director of Operations/COO
(Video available here)
UFI connects – revisited

"Does the future of the exhibition industry lie in H2H approach (Human 2 human)?"
with: The 2019 NGL grants
Carolin von Tippelskirch, Protocol and Corporate Events, Deutsche Messe AG (Germany)
Cinzia Zanin, Research and Development, Fondazione Fiera Milano (Italy)
Fuad Musafir, Business Development Manager Exhibition & Live Events, Oman Convention and Exhibition Centre (Oman)
Katie Thompson, Senior Content and Project Manager, Global Exhibitions Informa (USA)
Laura Docampo, Head of Digital, Fira de Barcelona (Spain)
From 86th UFI Global Congress 2019 – Bangkok (Thailand)
(Video available here)
UFI connects – revisited

"The Present Cannot Wait for the Future"
With: Eddie Choi, Managing Partner, Mills Design (Singapore)
From Asia Pacific Conference 2019
(Video available here)
Friday, May 29
Xchange online – Shenzhen World's measures for a safe environment
With:Mao Daben, Executive Deputy General Manager, Shenzhen World Exhibition & Convention Center
Jochen Witt, President & CEO, JWC
Burns Yeung, Deputy Managing Director, Reed Huabo Exhibitions
Jacob Vogelsang, CEO, Shenzhen Creative Week, Shenzhen International Furniture Exhibition
Moderated by: Géraud de Dieuleveult, Business Development Manager, UFI
(Video available here)
Thursday, May 28
G3 Webinar – Addressing COVID-19 Requirements for Re-Opening Business Events
With: Senthil Gopinath, CEO, ICCA
Sven Bossu, CEO, AIPC
Kai Hattendorf, CEO, UFI
Glenn Schoen, CEO, Boardroom@Crisis
Moderator: Dennis Speet, ICCA
(Video available here)
Thursday, May 28
"Exhibition industry post crisis: how far are we going to change?"
With: Elizabeth Arias, Communications Management, Corferias (COL)
Marco Giberti, Founder and CEO, Vesuvio Ventures (USA)
Fernando Gorbaran, CEO, Messe Frankfurt Argentina (ARG)
José Navarro Meneses, General Director, Tarsus (MEX)
Juan Pablo Maglier,  Director, La Rural (ARG)
Celia Navarrete, Senior Vice-president, Informa (MEX)
Moderators: Ana Maria Arango – UFI Regional Manager LatAm
Nick Dugdale-Moore – UFI Regional Manager Europe
Session in spanish
(Video available here)
Wednesday, May 27
"Focus on the exhibitor"
With: Lisa Hannant, Group Managing Director, ClarionEvents, UK
Randal Acker, President & COO, Exhibitor Media Group, US
Sophie Holt, Global Strategy Director, Explori, UK
Moderator: Kai Hattendorf, UFI MD/CEO
(Video available here)
UFI connects – revisited

"Digital Impact & Exponential Change"
With: Enrico Gallorini, CEO, GRS S.r.l. (Italy)
from UFI MEA Conference 2019
(Video available here)
Tuesday, May 19th
"Exploring Creativity in Time for Global Exhibitions Day"
With: Natasha Layal, Managing Partner, Expocast (UK)
Dan Dilorenzo, Director of Digital Marketing, Diversified (USA)
Ben Veechai, Vice President of Marketing and Corporate Communications – Asia, Informa Markets (HK)
Moderator: Caitlin Read, Communications Director, Comexposium (France)
(Video available here)
Thursday, May 14th
"Reopening exhibitions"
With: Marco Spinger – Director of Global Markets & IT Division, AUMA (Germany)
Rachel Parker, Director at AEV – Association of Event Venues (UK)
João de Nagy, Vice President at UBRAFE (Brazil)
Nick Dugdale Moore – European Regional Manager UFI
Moderator: Angela Herberholz, Programme Manager UFI
(Video available here)
Tuesday, May 12th
"What is the role of government in the recovery of the exhibition industry in Asia?"
With: Stuart Bailey, Chairman, HKECIA, (Hong Kong)
Grace Mak, Regional Director, Asia, E. J. Krause & Associates, Inc (China)
Andrew Phua, Executive Director, Singapore Exhibition & Convention Bureau (Singapore)
Nichapa Yoswee, Senior Vice President – Business, Thailand Convention & Exhibition Bureau (Thailand)
Moderators: Mark Cochrane, UFI Regional Manager for Asia
(Video available here)
Monday, May 11th
"UVC purification – a key step towards COVID-safe venues?"
With: Denis Delforge, CEO, Brussels Expo (Belgium)
Moderators: Kai Hattendorf, CEO-MD, UFI
(Video available here)
Presentation available here
Tuesday, May 5th
"Current conditions of  the U.S. trade show industry"
With: Randal Acker, President and COO, EXHIBITOR Media Group
Marian Bossard, EVP Global Market Events, Toy Association/Toy Fair
Rich Curran, CEO/President, Expo Convention Contractors
Alan Steel, President and CEO, Javits Center
Steve Walker, Executive Director of City Wide Sales, MGM
Moderators:
Kai Hattendorf, CEO-MD, UFI
Marty Glynn, CEO, MAD Event Management LLC
(Video available here)
Monday, May 4th
"Updates from the Middle East: Focus on KSA and UAE"
With: Taiseer Al-Mallah, Executive Director of Saudi Exhibition & Convention Bureau
Mubarak Hamad Al Shamisi, Director of Abu Dhabi Convention Bureau
Moderator: Naji El Haddad – UFI Regional Manager for MEA
(Video available here)
UFI connects – revisited

"Tech Evolution"
With: Shelly Palmer (CEO, The Palmer Group, USA)
from UFI's Global CEO Summit 2019
(Video available here)
Monday, April 27th
"What next for the exhibition industry in Europe?"
With: Gerald Bose (CEO, Koelnmesse)
Giovanni Mantovani (CEO, Veronafiere)
Barbara Weizsacker (Secretary General, EEIA)
Carina Montagut (Strategic Events Director, Feria Valencia)
Moderator: Nick Dugdale-Moore (Regional Manager Europe, UFI)
(Video available here)
Wednesday, April 22nd 
"Managing People & Communication in a Crisis"
With: Jan Dahms (Senior Vice President CE, Trippus event solutions AB)
Robert T. Heinemann (Managing Partner/CEO, Heinemann Management Consulting)
Moderator: Sonia Thomas, (COO, UFI)
(Video available here)
Monday, April 20th
"Convention & Exhibition Centres as Temporary Emergency Facilities"
With: Glen Schoen (CEO, Boardroom @ Crisis BV)
Enrico Pazzali (President, Fondazione Fiera Milano)
Ian Taylor (Managing Director, NEC)
Moderator: Christian Druart (Research Manager, UFI)
(Video available here)
Wednesday, April 15th
"Working from Home"
With: Stephan Forseilles (Group Head of Technology & Digital Transformation, Easyfairs International)
Holger Feist (CSO – Chief Strategy Officer, Messe München GmbH)
Moderator: Angela Herberholz, (Programme Manager – Education & Working Groups, UFI)
(Video available here)
Thursday, April 9th
"The Economist's View Beyond COVID-19"
With: Roger Martin Fagg (Behavioural Economist)
Moderator: Kai Hattendorf, (UFI CEO/MD)
(Video available here)
Tuesday, April 7th
"Virtual Events Panel"
with: Dahlia El Gazzar (Tech Evangelist + Idea Igniteur, DAHLIA + Agency) , Enrico Gallorini (CEO, GRS S.r.l.) and Matthias Tesi Baur (CEO, MBB Consulting Group)
Moderator: Ana Maria Arango. (UFI Regional Manager LatAm)
(Video available here)
Friday, April 3rd:
"How to Navigate Business in Times of Crisis"
with: Simon Foster (UK) in conversation with Cliff Wallace (US/China)
Moderator: Kai Hattendorf (UFI MD / CEO)
(Video available here)
Wednesday, April 1st:
"Empathy & Adaptability During Times of Crisis"
with: Craig Newman, (Johannesburg Expo Centre, South Africa), Trixie LohMirmand, (Dubai World Trade Centre, UAE), Peter Hall, (President EMEA, Informa Markets), Paul Grinnall, (Chief Executive Officer, REC, Kingdom of Saudi Arabia).
Moderator: Naji el Haddad (UFI Regional Manager MEA).
(Video available here)
Friday, March 27 :
"COVID-19 – An Update from Asia"
with Aloysius Arlando (SingEx Holding, Singapore), Michael Duck (Informa Markets, Hong Kong), Anbu Varathen (BIEC, Bangalore), Michael Kruppe (SNIEC, Shanghai).
Moderator: Mark Cochrane (UFI Regional Manager Asia/Pacific).
(Video available here)
Monday, March 23:
"COVID19 – The situation in Latin America"
with Ana Maria Arango (UFI Regional Manager LatAm), Pepe Navarro (Tarsus Mexico), Fernando Gorbaran (Messe Frankfurt Argentina).
(Video available here)