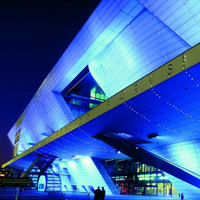 UFI Forum on Sustainable Development 2020
Moved to 2021
Palais des Congrès de Paris, Paris, France
All Industry Professionals
As lockdowns continue across the globe in response to the global pandemic COVID-19, and gatherings of any size are banned by many local governments, we have decided to postpone the UFI SD Forum that was scheduled to take place in Paris on 13-15 May 2020.
In addition, we appreciate the impact of the current crisis on many companies, with a shift in priorities in the short term. This is why UFI will now work with the hosts, sponsors and speakers on the option of moving the event to 2021, possibly around similar dates.
However, UFI will maintain opportunities for the sharing of best practices, and develop several online sessions on focused topics. An important topic will be around "Waste Management". Indeed, the quality of entries received earlier this month for this year's award competition means that, without preempting the results of the ongoing jury assessment, UFI will be able to propose very interesting case studies, and will provide the possibility for everyone to interact online to discuss them.
In the meantime, UFI will reimburse all payments received in relation to the Paris Forum.
Christian Druart remains available for any questions you may have (chris@ufi.org).
Best wishes to all in these challenging times.