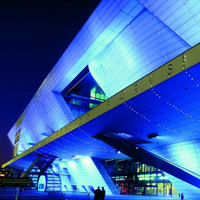 UFI Forum on Sustainable Development 2020
13–15 May 2020
Paris Congress Center, Paris, France
All Industry Professionals
Save the date!

For the first time, Paris will welcome the 9th Forum on Sustainable Development at the Paris Congress Center.
Open to all event industry professionals, the forum, entitled "Event Performance: Economic, Social and Environmental Impacts" offers valuable insight into industry best practices in the area of sustainable development. A series of workshops designed to facilitate knowledge exchange between the audience and experts will take place during this one-day meeting.
Participants will also enjoy a networking welcome reception on Wednesday 13 May in the evening, and optional instructive site visits on Friday 15 May.
All details will be available by mid-October 2019, for information contact: chris@ufi.org.