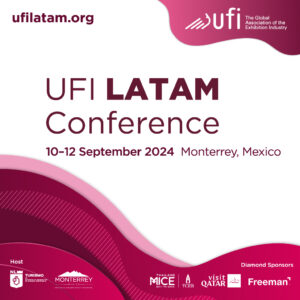 UFI LATAM Conference 2024
17–19 September 2024
OCV Monterrey - Oficina de Convenciones y Visitantes de Monterrey, Monterrey, Mexico
All Industry Professionals
UFI LATAM Conference 2024: The unmissable B2B Event in Monterrey, Mexico
Get ready for the UFI LATAM Conference, on 17-19 September 2024 in Monterrey, Mexico.
Following successful editions in Mexico City and Buenos Aires, this year's event will be hosted by the Monterrey Convention & Visitors Bureau (CVB) [in Spanish: Oficina de Convenciones y Visitantes Monterrey (OCV)] and will take place at Cintermex. The pre-registration will be open very soon, to secure your spot for this must-attend exhibition industry gathering.
Monterrey, often referred to as the "City of the Mountains," is renowned for its vibrant culture, modern infrastructure, and warm hospitality. As the third-largest city in Mexico, it offers an ideal setting for hosting such a prestigious event, creating an enriching and inspiring environment for attendees.
The UFI LATAM Conference 2024 welcomes both UFI members and non-members, providing an ideal platform to promote, support and network with professional peers of the exhibition industry in Latin America and beyond.
Mark your calendars for the UFI LATAM Conference 2024 and elevate your exhibition industry experience.
We look forward to seeing you in Monterrey!