UFI invites the world to join Global Exhibitions Day 2018.
Preparations are underway for Global Exhibitions Day (#GED18) on 6 June 2018, and UFI the Global Association of the Exhibition Industry is inviting people around the world to get involved.
Download #GED18 web logos
Follow me video guide
Global Exhibitions Day is a chance to celebrate the exhibition industry and highlight its positive impact on jobs, business, innovation and local investment.
Online, and through an array of national and local events, people on every continent are expected to join the GED18 campaign, from venues and organisers to students, local partners and public authorities.
Together with its industry partners, UFI is currently preparing the material for the #GED18 campaign. All material/toolbox will be shared online. So we invite you to keep an eye on this website. In the meantime join the GED movement on Social Media.
GED Awards (#GED18awards)
Global GED Awards
Exhibition World and UFI are delighted to announce another Global Exhibitions Day Awards
Most Creative Activity: endorsing the most quirky, fun and imaginative entry
Highest Profile Online Activity: recognising the most ambitious online marketing initiative
Biggest Scale Physical Activity: awarding the most impressive offline activity
Industry Impact Award: recognising the initiative that has the most positive impact supporting exhibitions as an industry
Talent Promotion Award: for the entry that best promotes attracting talent to the exhibition industry
The Indian GED Awards
To support the growing buzz around exhibition industry in India, UFI media partner Exhibition Showcase is organising the 'Indian GED Awards' from #GED18 awards. Supported by UFI, the Indian GED Awards will honour top entries
from across India.
Best exhibition industry video: will honour videos (max 45 seconds) that showcase different aspects of the exhibition industry,
including the benefits of the industry, learnings and the outlook for the coming year.
Best follow me video: will honour videos (1-2 minutes) that best attracts new talent to the exhibition industry. This category
rewards (young) professionals who share their typical working day, with its highlights and challenges, on video.
Best CSR Activity: will select the best activity during GED18 week (for workers, community, causes, environment, etc.) that
promotes the exhibition industry doing charitable work for society.
Impact Award: will select an individual, company or body who best celebrates GED with maximum impact & visibility through
online or offline activity.
Contact: Angela Herberholz , Christian Druart or Zhonghua Hu at the UFI Headquarters: GED@ufi.org
List of #GED18 partner associations under the UFI umbrella: AAXO (South Africa), AEFI (Italy), AEO (UK), AFE (Spain), AFECA (Asia), AFIDA (Central & South America), AMPROFEC (Mexico), AOCA (Argentina), AUMA (Germany), CAEM (Canada), CEFA (Central Europe), CENTREX (Central Europe), CFI (Italy), EEAA (Australasia), EEIA (EU), EFU (Ukraine), EMECA (Europe), EXSA (South Africa), FAIRLINK (Sweden), FAMAB (Germany), HKECIA (Hong-Kong), IAEE (USA), IDFA (Germany), IECA (Indonesia), IEIA (India), IELA (Global), IFES (Global), LECA (Lebanon), MACEOS (Malaysia), MFTA (Macao), PCEI (Poland), RUEF (Russia), SACEOS/SECB (Singapore), Shanghai Convention and Exhibition Industries Association (China), SISO (USA), TEA (Thailand), TECA (Taiwan), TFOA (Turkey), UBRAFE (Brazil) and UNIMEV (France).
Download #GED18 print logos
GED in its 2nd year
Global Exhibitions Day, held on 7 June 2017, has mobilized thousands of industry professionals around the world.
Media Release on GED17
Activities around the globe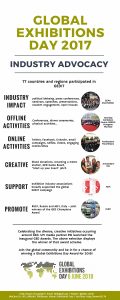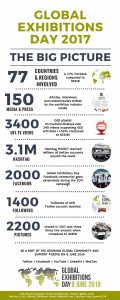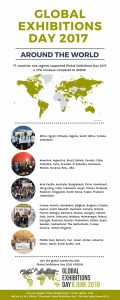 Download Infographics