First ever held Global Exhibitions Day (#GED16) brings together the global exhibition industry to:
Raise awareness about the value of exhibitions to various stakeholders (e.g. governments and local authorities, businesses, NGOs, etc.)
Celebrate the people who work in our industry and inspire new generations
GED Flyer
Truly global from its very first day! Since the project launch in January 2016, industry leaders from all over the world have pledged their support. A growing list of associations, industry players and universities have announced to join forces to promote the industry and to highlight its achievements.
GED Global Actions
Get involved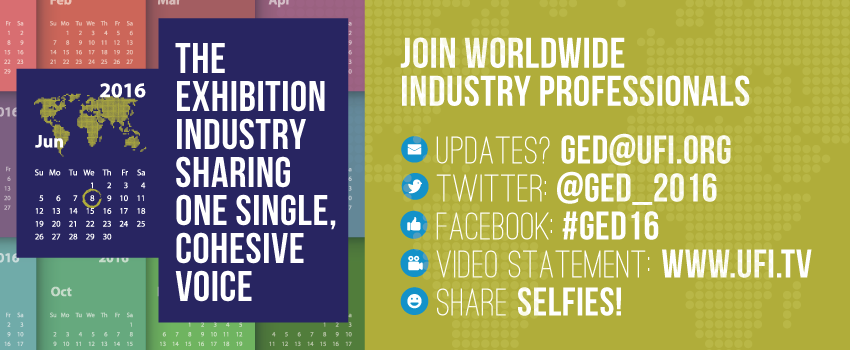 Global Exhibitions Day is not a single event. It is an invitation for everyone eager to promote the value of our industry and to share one single and cohesive voice. It is a combination of all our efforts together.
You can make a difference, by getting involved and taking part, whether as an individual, a company or an association.
Anything you can do, will contribute to the greater impact of #GED16, and will help us promote the exhibition industry.
Here are some ideas what you can do to support #GED16
Integrate the #GED16 logo in your email signature
Film a 'highlights' video from behind the scenes of the exhibition industry.
Look for any regional events that you can tap into to promote #GED16
Include #GED16 logo in your e-mail siganutre
Add the #GED16 logo to your printed and online materials (brochures, flyers, badges, banners, etc.)
Share quotes / interviews from your staff and clients on their highlights of working within the exhibition industry. E.g. what was their best exhibition experience or the most significant moment in their career
Plan a team building on June 8 and share your activities
Be inspired and inspire others
Tell us how you are able to get involved and inspire others. We make sure to share your efforts with the exhibition industry community. All individual efforts will benefit from being amplified and promoted globally as part of #GED16.
We have you covered
The task force driving this project is currently working on a toolkit to be shared with anyone in need of promotion material, key messages on the value of exhibitions, facts and stats of our industry, social media guidelines and much more. Anything that will be helpful for anyone interested to get involved! This will be made available soon on this page and regularly updated.
Participate
Contact: UFI Headquarters: GED@ufi.org
List of #GED16 partners: UFI (Global), AAXO and EXSA (South Africa), AEFI and CFI (Italy), AEO (UK), AFE (Spain), AFECA (Asia),  AFIDA (Central & South America), AMPROFEC (Mexico), AOCA (Argentina), AUMA and FAMAB (Germany), CAEM (Canada), CEFA and CENTREX (Central Europe), EEAA (Australasia), EEIA (EU), HKECIA (Hong-Kong), FAIRLINK (Sweden), IAEE and SISO (USA), IECA (Indonesia), IEIA (India), IELA (Global), IFES (Global), LECA (Lebanon), MACEOS (Malaysia), MFTA (Macao), PCEI (Poland), RUEF (Russia), TEA (Thailand), UBRAFE (Brazil) and UNIMEV (France).
Your support
Join the #GED picture gallery and share your selfie/picture on Twitter @GED_16 (#ged16)!