News from EEIA
EEIA continues advocacy for travel rules and EUDCC
In Brussels, the European Exhibition Industry Alliance (EEIA) continues its advocacy efforts around the implications of the pandemic on the exhibition industry, especially in regards to travel regulations when entering and exiting the EU. A position paper was published on this matter and all institutions and relevant stakeholders were contacted, click here
Further, the Tourism Manifesto, an alliance of over 70 organisations in the travel value chain, carried out a joint lobbying effort on the upcoming Regulation of the Digital Covid Certificate. EEIA  held meetings with the European Commission, UNWTO, MEPs and other stakeholder indtitutions.
Statement on Ukraine conflict and industry support to Ukraine refugees
With the new challenges due to the Ukraine crisis, a permanent exchange with the European Commission has been established and feedback from among the membership for example on shortage of shower containers and other material to welcome the refugees has been flagged. EEIA also closely monitors the sanctions and economic developments connected to these, highlighting implications on and needs of the industry to the European institutions.A statement on the Ukraine crisis has been published by EEIA referring to the European Union values, the values of the free world – that are shared by numerous European countries not Member of the EU – as well as the UN principles. Both UFI and EMECA, that collaborate in the alliance, have published separate statements on the conflict and suspended members from Russia temporarily from the associations' activities. EEIA calls for supporting humanitarian aid via donations to the UNHCR.
EEIA attends the SISO CEO Summit in St. Petersburg, Florida
Barbara Weizsäcker attended the SISO CEO Summit in St. Petersburg, USA to connect with the American industry and advocacy ECA and to deliver a joint session on advocacy with UFI CEO Kai Hattendorf. It focused on Covid advocacy and phases of reopening in Europe. With the US entity, ECA, a focus will be on potential joint policy initiatives, such as new transatlantic trade and technology developments.
News from Exhibitions & Conferences Alliance (ECA)
MUSIC Act / small business relief effort: ECA continues to work with its Congressional champions on ensuring the MUSIC Act becomes law in 2022 to provide grants to qualifying small businesses in our industry.
Visa processing: The recent omnibus government funding bill included important provisions to help address visa processing delays and challenges at U.S. embassies and consulates around the world. ECA supports all efforts to restore visa interview and processing capacity to pre-pandemic levels at U.S. embassies and consulates as soon as possible.
ECA at SISO Summit: SISO hosted Tori Barnes from U.S. Travel and ECA's Tommy Goodwin for a session entitled 'Advocacy in Action': Issues discussed included both organisations' 2022 policy priorities, as well longer-term areas of focus such as sustainability, workforce, and mobility.
More information here.
---
NEWS FROM THE REGIONS
News from Europe
Working Group on Humanitarian support
Our industry is playing an important role for society – springing to action to offer support for those fleeing violence in Ukraine. Following a request from one of our Executive Committee members, UFI set up an ad-hoc working group to connect member venues who are taking action.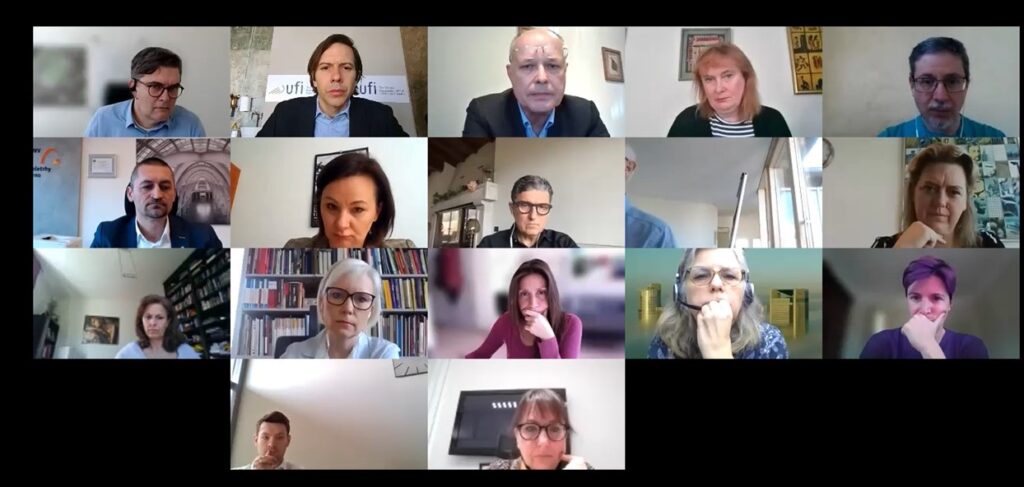 The working group met on Zoom on 18 March, joined by Valerii Pekar from Euroindex in Kyev, and have been in touch since to share information and best practices. We will give an update on the group's activity during the European Chapter meeting at the UFI European Conference. If you wish to participate, please contact Nick Dugdale-Moore at nick@ufi.org.
European Chapter meeting – Thursday, 5 May
The next European Chapter meeting is scheduled on Thursday, 5 May at 10:30 am. UFI Members will soon receive the following details:
Update on the Refugee / Humanitarian support from UFI members and discussion about ongoing support
EU update from the European Exhibition Industry Alliance (EEIA)
Presentation on advocacy and government support from various European countries, plus discussion about how we can work together to influence policymakers as we emerge from the pandemic
Please register for the UFI European Conference at http://www.ufieurope.org.
---
News from MEA
Preparations have officially begun for the 89th UFI Global Congress in November in Oman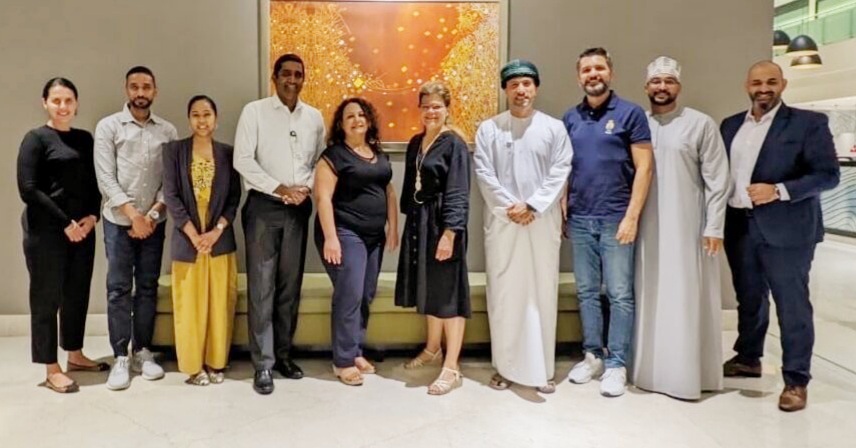 Preparations for the 89th UFI Global Congress, taking place on 14-17 November 2022 have officially begun! UFI Events Manager, Karen Cohen and UFI Chief Operating Officer, Adeline Vancauwelaert travelled to Muscat, Sultanate of Oman for an inspection visit.
UFI Regional Director Naji El Haddad from the UFI MEA office was also present. UFI staff were warmly welcomed by the 2022 host, Oman Convention and Exhibition Center (OCEC). In addition to meetings and discussions on the overall organisation of the congress, the team visited exceptional reception venues for the congress dinner as well as the Sultan Qaboos Grand Mosque and the Mutraq Souq for the post-congress tour.
Save the date for the 89th UFI World Congress in
Muscat, Sultanate of Oman on 14-17 November 2022
---
News from Asia-Pacific 
Site inspection at newly refurbished QSNCC in Bangkok
On Wednesday, 30th March, Mark Cochrane, UFI's Regional Director in Asia joined a site inspection tour of the Queen Sirikit National Convention Center in Bangkok (QSNCC) along with representatives of the venue, Thailand Convention & Exhibition Bureau (TCEB) and the Thai Exhibition Association (TEA).
The venue originally opened in 1991 ahead of a joint meeting of the International Monetary Fund (IMF) and the World Bank – which was the first event held at QSNCC in October of that year.
After nearly 30 years of hosting events and functions, QSNCC was closed in April 2019 for a complete US$360 million renovation. The newly refurbished venue is on schedule to host its first event in September 2022.
The new QSNCC will offer 280,000 sqm of usable space including 78,000 sqm for events. Approximately, 45,000 sqm for exhibitions across eight halls, 4,500 sqm of plenary hall space, 4,600 sqm of ballroom space and 50 meeting rooms.
The new design also features a view of the surrounding park and lake. The venue is also directly connected to the Bangkok Metro system. It will have a car park capacity of 2,700, nearly 14,000 sqm of retail and restaurant space as well as the meeting rooms, plenary halls and ballrooms.
The site inspection was part of multiple UFI Asia-Pacific Week activities organized by TCEB and TEA including a Golf Day, a TEA executive committee meeting and a one-day TCEB conference focused on the future role of technology in business events.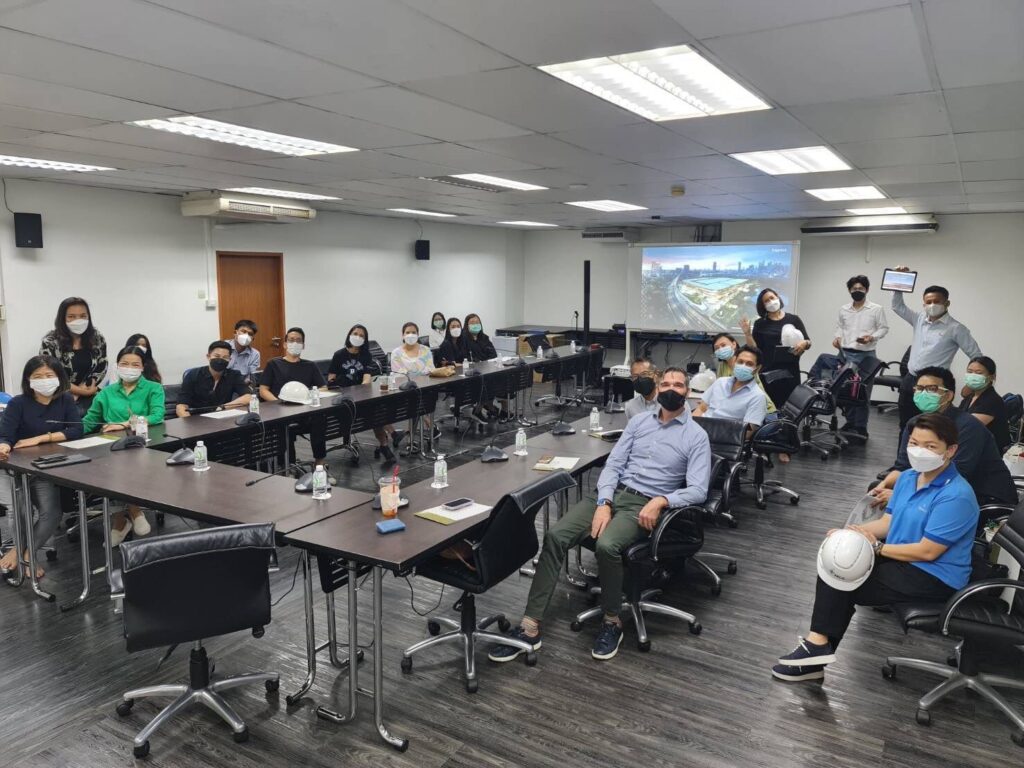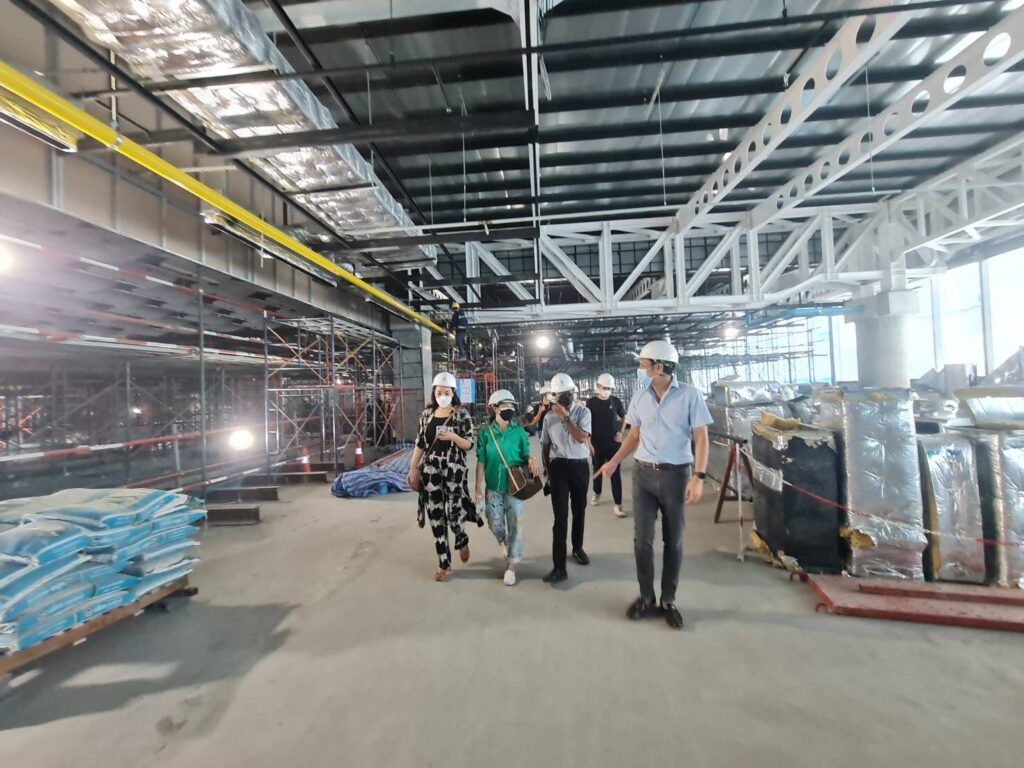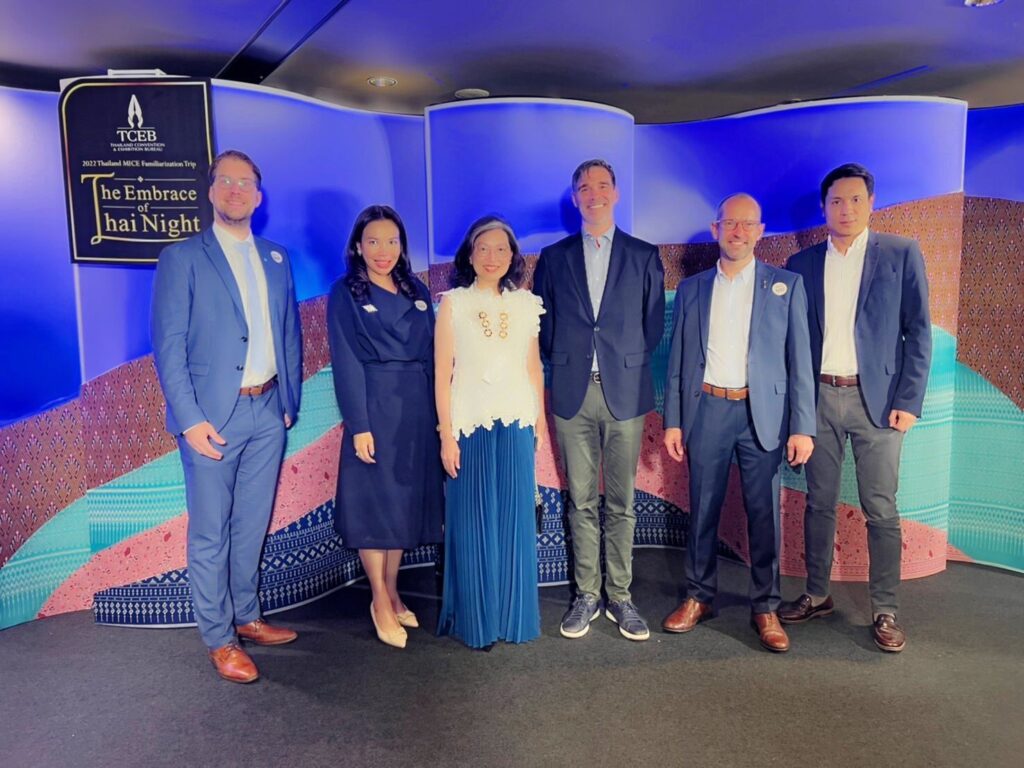 From left to right: Igor Palka (VNU Exhibitions Asia Pacific), Kanokporn Damrongkul, Kelly and Nichapa Yoswee (TCEB), Mark Cochrane (UFI), David Aitken (Asian Exhibition Services), Suranart Phiphadkusolkul, Goff (TCEB)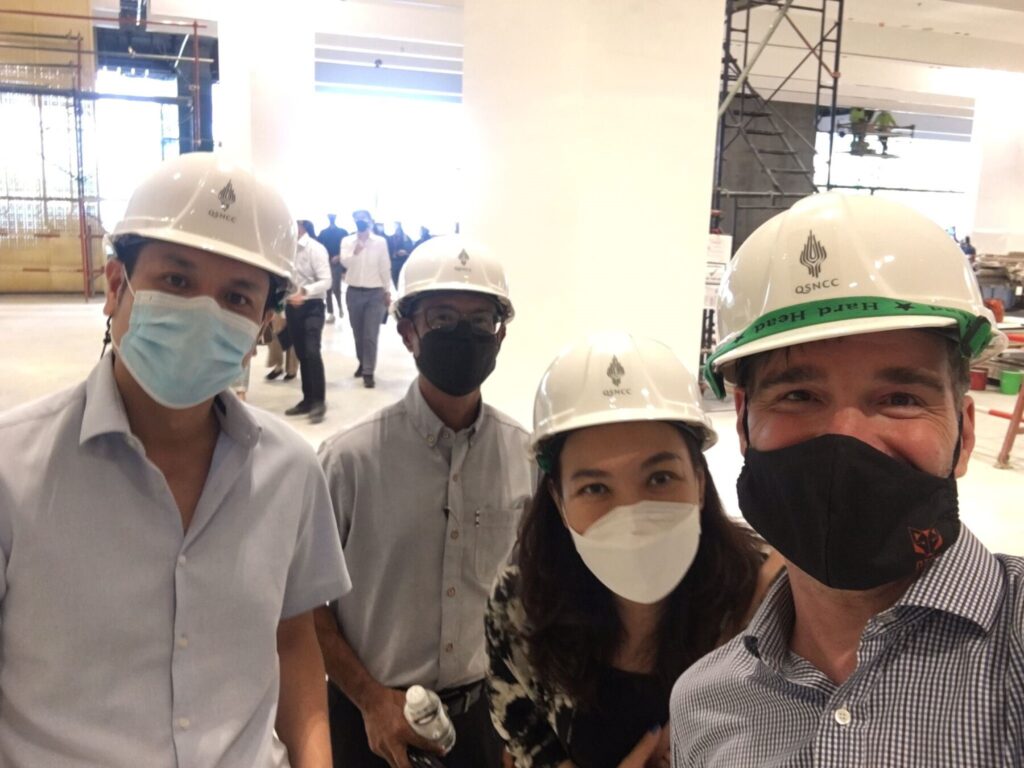 From left to right: Suranart Phiphadkusolkul, Goff (TCEB), Sarnit Karunyavanij (DMG Events), Kanokporn Damrongkul, Kelly (TCEB), Mark Cochrane (UFI)
---
TCEB – An Update
"Thailand International Air Show" to Propel Thailand as ASEAN's Aviation & Logistics Hub
Thailand exhibition industry is flying high and higher. Thailand International Air Show and its pre-event "Road to Air Show" will provide lucrative opportunities for exhibition stakeholders and entrepreneurs around the world in the development of the aerospace and related industries to their fullest potential.
The first Thailand International Air Show, with Thailand Convention and Exhibition Bureau (TCEB) and the Royal Thai Navy as supporting organizations and the Eastern Economic Corridor Office of Thailand (EECO) as the project host, according to the official approval during the EECO's meeting on March 9, 2022, chaired by Thailand's Prime Minister General Prayut Chan-ocha, will open a new dimension in many aspects, such as strengthening Thailand as a regional exhibition destination and a hub of aerospace and logistics upon the inauguration of the new U-Tapao International Airport. This large-scale international event will be the driving force of Thailand's high-technology industry to the global market, and will promote EEC as "The Prime Gateway to Asia" and Thailand as one of the world's leading MRO destinations as well as manufacturers and exporters of aero-parts.
The proposal for Thailand International Air Show was the first of its kind initiated by TCEB. As a national bidder and the industry's co-creator, TCEB conducted a series of feasibility studies and public hearings, provided consultations and set up a cooperation framework with relevant agencies for organizing aviation trade shows in Thailand since 2018. Upon the approval led by Thailand's Prime Minister, as aforementioned, TCEB will be responsible for project consultancy and marketing campaign including national and overseas press conferences and events, to raise awareness of this world-renowned air show to the global scale.
Thailand International Air Show aligns with "Thailand 4.0" policy which focuses on innovation-driven economy and the 20-year national strategic plan that aims to attract investment, drive economic growth and promote 12 S-Curve industries, especially 5 new target industries, in which Aviation and Logistics is one of them.
Along with Thailand International Air Show, TCEB will also plan a series of activities from 2023 through 2027 under the "Road to Air Show" project in EEC area, in which trade exhibitions and mega event festivals in related industries will be held as clustering events to draw exhibitors and visitors to this new business landmark. Expectedly, this industrial event congregation is believed to pave a firm journey with continuous economic impact for Thailand International Air Show and further to Thailand's aviation industry and all relevant sectors.
It is forecast that throughout the 5 continuous editions of Thailand International Air Show, this biennial event will attract 75,000 participants, promote the GDP expansion by over USD 145 million, create more than 18,000 jobs, stimulate tax revenue beyond USD 57 million, and tremendously benefit Thailand's exhibition and MICE industries in terms of social, economic and environmental impacts, under EECO's development policies. From 2022 onwards, unlimited opportunities are arising in Thailand. A series of international trade shows in the 12 focus industries such as "Maintenance, Industrial Robotics and Automation", "Manufacturing Transformation Thailand" are examples of proactive shows scheduled to stage in the EEC area in August and September 2022, respectively.
Thailand International Air Show will stage an official announcement in 2023, the official soft-launch opening in 2025 and the full-scale event in 2027. TCEB is confident that the first Thailand International Air Show is a testament to the potential for exhibitions to drive Thailand's economic transformation and will be a catalyst for the development of an Aviation and Logistics hub in the Eastern Economic Corridor (EEC).
To grow your business and explore huge opportunities in Thailand's exhibitions, please e-mail exhibtions@tceb.or.th.