Record number join UFI Asia-Pacific Conference in Tokyo
– Over 300 exhibition industry leaders from Asia and beyond gather in Japan to "face the future"
Over 300 delegates from 22 countries and regions attended the sold-out UFI Asia-Pacific Conference this week in Tokyo, making it the biggest of its kind in the event's 14-year history. Held at Tokyo Big Sight on 14-15 March, it marked the first time that UFI has held the annual Asia-Pacific industry conference in Japan.
A mix of speakers from inside and outside the business events industry covered this year's theme of "Facing the Future":
Among them was Kengo Kuma , the world-renowned Japanese architect who designed the stadium for next year's Tokyo Olympics and Paralympics. He opened the conference with a strong talk about the power of creativity, and how it can trigger harmony to create integration and connections.
Margaret Ma Connolly, CEO in Asia for Informa  (previously known as Informa Global Exhibitions ), shared her views on how our industry can attract and develop talented managers. Scott Munro, Chief Commercial Officer of Branded Limited, shared his experiences of building a "festivalised" B2B conference. He challenged exhibition organisers to offer their support to festival and event organisers who are increasingly looking to "exhibitionise" their festivals.
George Tanasijevich, President and CEO of Marina Bay Sands, outlined his views on the opportunities in Japan for "Integrated Resorts" to internationalise and transform Japan's MICE sector. Josephine Lee, COO of Reed Exhibitions China, updated delegates on Reed's growing portfolio of B2B exhibitions in China, Asia's largest exhibition market.
Tadao Ishizumi, President of Reed Exhibitions Japan, delivered a compelling case study focusing on how Reed Japan has developed from humble beginning 33 years ago to become an organisation that produces over 200 exhibitions in Japan annually, generating hundreds of millions of US dollars in revenues – "all organically, without any acquisitions." He called on Japanese authorities to fast track the development of additional venue space in Japan to allow the market to grow.
There were also several sessions about the role that digital platforms and technology can play in transforming the future of business events. Speakers included Eddie Choi from Mills Design, Jason Popp of GES, Tesi Baur of MBB-Consulting, Gunnar Heinrich of adventics, and Stephan Forseilles of EasyFairs.
All talks will be made available to UFI members in the coming days in the member section of the UFI website (www.ufi.org).
"The exhibitions industry in the Asia-Pacific region continues to grow at an impressive pace, as this year's conference has shown once again. As more venue space becomes available and as the government paves the way for the development of integrated resorts in Japan, Asia's second largest market is seeing a fresh surge of international interest," says UFI Managing Director/CEO Kai Hattendorf.
The UFI Asia-Pacific Conference featured two days of networking and learning as well as a Marketing Committee meeting and an Associations' Committee Meeting. Other onsite activities included a tour of the Tokyo Big Sight venue, an UFI Asia-Pacific Chapter member meeting led by new Chapter Chair, David Zhong, and a UFI China Club meeting. There was also a welcome reception for all delegates held at the Tokyo Conference Centre Ariake, as well as city tours and much more besides.
This year's conference was hosted by Tokyo Big Sight, Japan's largest exhibition venue. The conference was supported by representatives of all four UFI Diamond Sponsors: Thailand Convention & Exhibition Bureau (TCEB) and Global Experience Specialists (GES), Qatar National Tourism Council (Qatar) and Shenzhen World.
Full details of the UFI Asia-Pacific Conference 2019 can be found on the event website: http://ufievent.org/tokyo2019/
The UFI Asia-Pacific Conference 2020 will take place in Macau, from 6-9 March 2020. "We are excited about the opportunity to go to Macau next year. Everyone attending the conference will be able to experience first-hand the impact the new road bridge between Hong Kong and Macau is having," says Mark Cochrane, UFI Regional Manager Asia-Pacific. The 2020 conference will be hosted by Macau Fair & Trade Association (MFTA) supported by Macao Trade & Investment Promotion Institute IPIM.
Below
Pictures below:
1) From left: David Zhong, UFI AP Chapter Chair; Kiyotsugu Ishihara, President & CEO, Tokyo Big Sight; Kai Hattendorf, UFI Managing Director/CEO.
2) Opening session, audience in the room, UFI Asia-Pacific Conference 2019, Tokyo.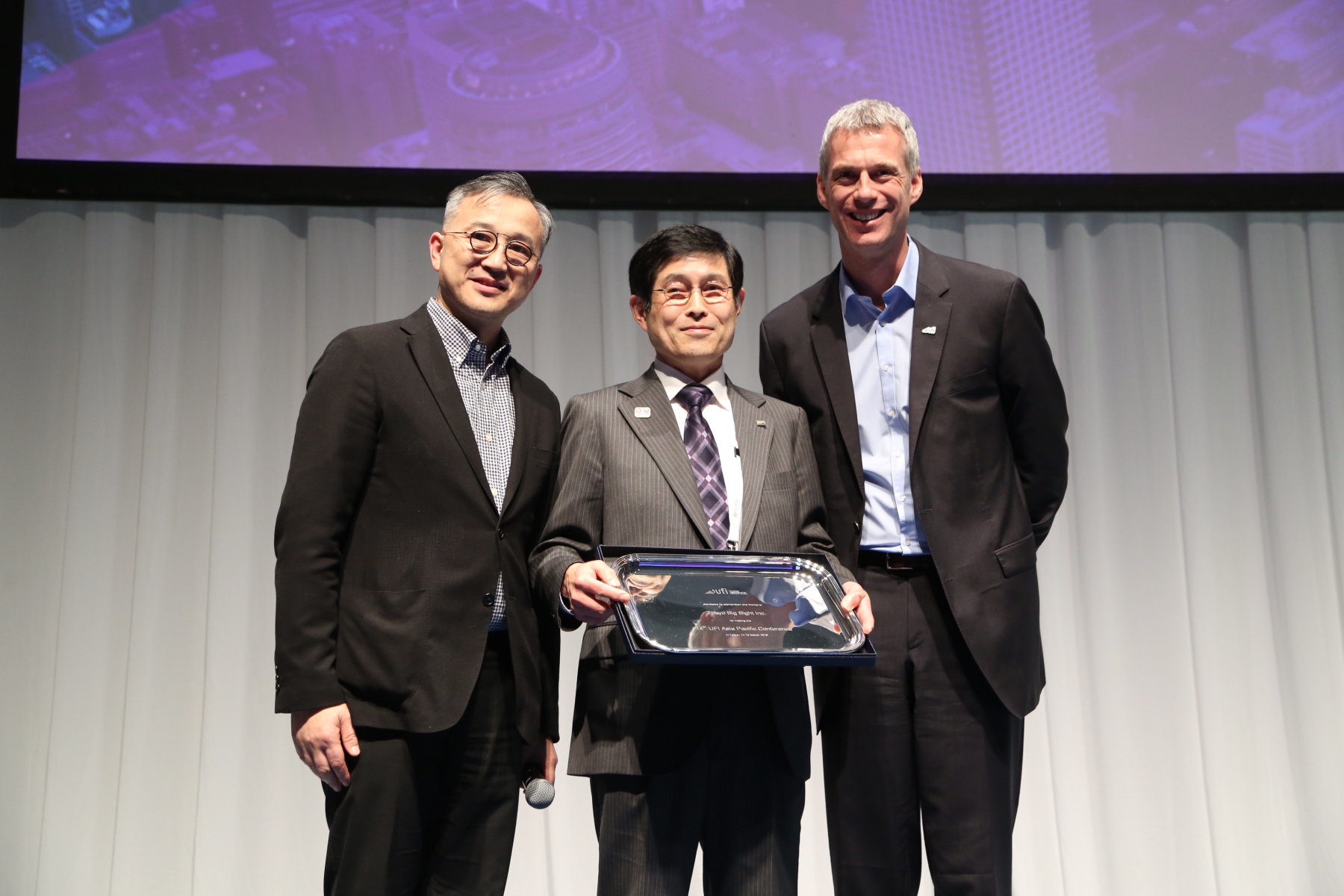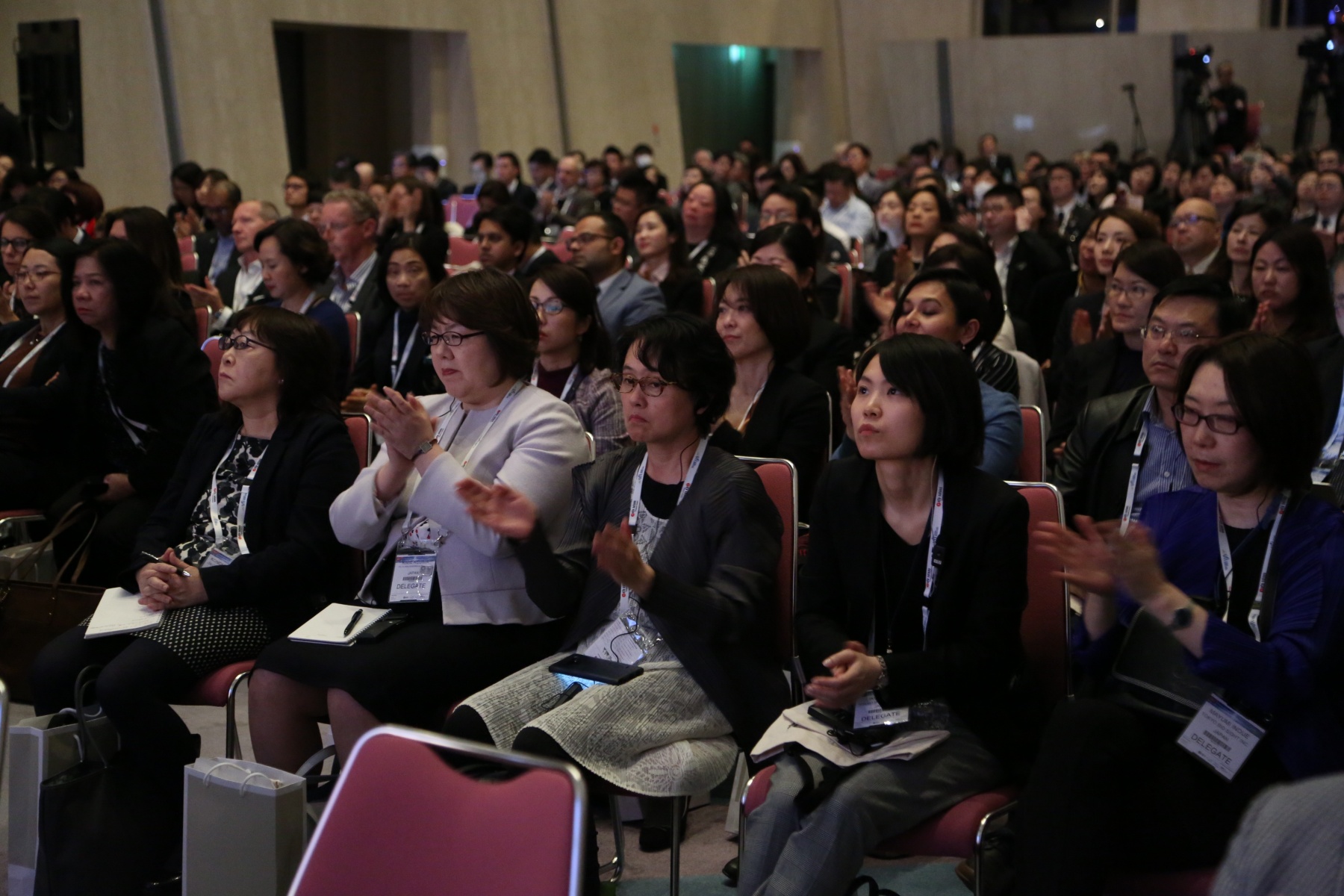 UFI announces two special events aligned with the European Conference in May: "Operations and Services" and "Digital Innovation"
–        UFI Operations and Services Forum to take place on 14-15 May 2019
–        UFI Digital Innovation Forum to take place on 15 May 2019
–        Both events aligned with the UFI European Conference in Birmingham (UK)
UFI is pleased to announce that two special events will take place ahead of this year's European Conference in Birmingham (UK). The first will focus on "Operations and Services" while the second will be all about "Digital Innovation".
Run by UFI's respective Working Groups, Forums are specialised conferences based on a very specific topic. Their aim is to empower mid to senior managers in the exhibition industry who are in charge of these specific subject areas for their companies.
The UFI Operations and Services Forum is scheduled for 14-15 May. With the theme "Productivity improvements in operations and services using smart technology", it will present concrete case studies supporting a range of topics, such as IoT data collection and deployment; IoT for venue management; facial recognition for entry control; and a close look at the deployment of the "Air Traffic Control" model to venues.
Giacomo Lucchini, Chair of UFI Operations and Services Working Group, comments: "The Operations and Services Forum provides delegates with the ideal opportunity to step back and reflect on how to do things better. Participants can become more familiar with the specific tools available for a seamless, optimal customer experience whilst maximising efficiency."
The UFI Digital Innovation Forum will take place on 15 May. Entitled "How to push digital innovation", it will present real-life cases, challenges and benefits. The speakers and presenters will share their experiences, both good and bad, as well as ideas for organisations to become more digital, data-driven and customer-focused.
"Over the past few years, the topic of digital innovation has come up time and again. We have looked at it from many different angles, studied it, strategised it and filled a lot of slides with it. However, CTOs and CDOs of the exhibition industry are still struggling when the time comes with actually implementing real projects in real events and venues. This is why we have decided to focus on real-life cases, challenges and benefits," says Matthias Tesi Baur, Chair of the UFI Digital Innovation Working Group.
With both forums wrapping up just as UFI's European Conference kicks off, participants can make a seamless transition from one event to the next. The conference is UFI's main event in Europe this year, with the most international gathering of European exhibition industry leaders. Colleagues from Asia and the Americas will also attend. The conference is geared towards providing industry updates and insights from across the region, combined with quality networking and unique cultural experiences. This year, it will focus on what's in store for organisers in Europe and beyond. This first international conference for our industry in post-Brexit Britain will look at ways and means to benefit from changing trade patterns as new alliances are being forged.
Early bird registrations end on 15 March. Special discounted rates apply if registering for one of  the UFI Forums as well as the UFI European Conference.
Archive
Download previous media releases.