UFI TV is a unique channel on YouTube designed to showcase the exhibition industry around the globe.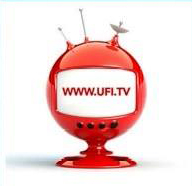 Featuring almost 500 videos, UFI TV presents comprehensive coverage of exhibitions, trade shows, conferences and seminars from diverse industries worldwide. UFI cautiously adds industry videos to keep this platform lively and up-to-date.
Playlists include:
Global Exhibitions Day
UFI Global Congress
UFI Regional Conferences
Events Approved by UFI
UFI Members
UFI Partners
UFI Focus Meetings
Exhibition Industry Education
Why Exhibitions Work
We invite UFI members to share their video links with us and help us grow this unique platform. Subscribe to UFI TV to see highlights of UFI Approved Events and UFI Approved International Events, news from UFI members and partners, and a selection of videos centred on exhibition training.
Go to UFI TV
---