EEIA News from Brussels
Person-based approach for travel adopted by European Council
The Council adopted a recommendation on a coordinated approach to facilitate safe free movement during the COVID-19 pandemic during the month of January. Under the new recommendation, COVID-19 measures should be applied taking into account the status of the person instead of the situation at regional level, with the exception of areas where the virus is circulating at very high levels. This means that a traveller's COVID-19 vaccination, test or recovery status, as evidenced by a valid EU digital COVID certificate, should be the key determinant. This represents a substantial simplification of travel within the EU.
However, the European Centre for Disease Prevention and Control (ECDC) will continue to publish a map of member states' regions indicating the potential risk of infection according to a traffic light system. EU member states should apply measures regarding travel to and from dark red areas, in particular discourage all non-essential travel and require persons arriving from those areas who are not in possession of a vaccination or recovery certificate to undergo a test prior to departure and to quarantine after arrival. An emergency brake to respond to the emergence of new variants of concern or interest is foreseen including a joint discussion of the situation and coordinated approach in the Council.
Additionally, a delegated act amending the digital COVID-19 certificate regulation and providing for an acceptance period of 270 days for vaccination certificates enter into force on 1 February 2022. All details can be found here
EUR 47 million fund scheme to help SMEs protect their intellectual property
The European Union Intellectual Property Office (EUIPO) and the European Commission have launched the first call for applications of the new SME Fund, a grant scheme of up to €47m for three years (2022-2024). This program offers reimbursements of up to €2,250 on trade mark, design, and patent application fees to help EU-based SMEs access and leverage their intellectual property rights. Last year nearly 13,000 European SMEs benefitted from the initiative. According to research carried out by the EUIPO, SMEs owning intellectual property rights generate 68 % more revenue per employee than those that do not.
It is a very useful tool that trade fair organisers can promote to their exhibitors!
EU's Overseas Trade Fairs 2.0  (OTF 2.0) European pavilions at CES Las Vegas and Arab Health Dubai
The OTF 2.0 Programme kicked off successfully with EU pavilions at CES in Las Vegas and at Arab Health in Dubai. The European Commission funds selected European start-ups and SME's to export their innovations at exhibitions overseas. The programme will cover 15 shows in 2 years. It is managed by Deloitte and the European Exhibition Industry Alliance's Sara Lanzilotta is responsible for all exhibition logistics and the relations with the other European Member States pavilions.
18 EIC-funded SMEs, startups and scale ups were part of the EU Pavilion at the Consumer Electronics Show (CES) 2022 from 5-8 January 2022 to showcase their advanced products or trending innovations. The EIC funded innovators seized the major opportunity to impress the international audience with their exceptional solutions and forge strategic business partnerships with like-minded counterparts. The spectrum of EU innovations ranges from digital technologies (Artificial Intelligence, Robotics, Machine Learning, IoT) to inventive concepts for product design and manufacturing. The companies received much attention and reported very positive feedbacks about the quality of contacts and discussions. The innovators came from Denmark, Slovenia, Israel, France, Sweden, Switzerland, Finland, United Kingdom, Latvia, France, Spain, Italy, Norway. High level representatives from the European Commission also attended the event.
More details here.
Immediately afterwards, from 24-27 January 2022, Arab Health hosted the presence of 18 outstanding companies from 13 different countries that had been selected by the European Union's  European Innovation Council to join the European Innovation Pavilion in Dubai. The spectrum of EU innovations ranges from digital health products (remote sensing and wearables, telemedicine, predictive modelling, health and wellness behaviour modification tools) to innovative medical devices. The top EIC funded SMEs are from Spain, France, Estonia, Poland Italy, Hungary, Latvia, Austria, Sweden, The Netherlands. Visitors attended product launches, live demonstrations and join discussions and networking opportunities and the exhibitors reported high satisfaction with contacts and business opportunities. Also for this event, representatives from the European Commission were on the showfloor to support the innovators and to network.
Due to the pandemic-related travel restrictions and insecurity for planning, some changes may have to be applied to the trade fairs programme. Thanks to the participants' success at CES and Arab Health, both shows are set on the programme's agenda for next year again.
The upcoming events planned and all related news can be found at the EIC website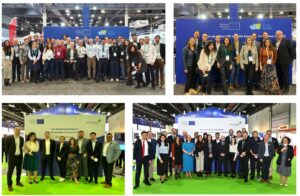 ---
TCEB – An Update
Y2022 Sees Positive Recovery. Come Reap Plentiful Opportunities with ASEAN's Market through Thailand's Exhibition Industry.
A year of Tiger has been the positive start of a recovery for our exhibition industry. Here in Thailand, our exhibitions have restarted continually since 2021, and we keep moving forward towards a new chapter together in 2022.
International and local exhibition organizers can leverage multiple opportunities for finding new partners, merging shows, acquiring and launching new shows on the 12 S-Curve industries and more. Thanks to the Thai government 's support policy of bio, circular, and green (BCG) production and services, tremendous opportunities are widened and reinforced. *Many businesses will be promising in Thailand including automobiles and parts, food products, e-commerce, delivery and packaging services, logistics and warehouses, IT solutions, cybersecurity services, telemedicine, hard disk drives, cloud data centers, and digital asset platforms. Investment from local and foreign companies especially in the zone of the Eastern Economic Corridor (EEC), according to the Board of Investment, has gradually rebounded particularly in the automotive and parts, electronics, and platform and digital information cloud services industries. Exports to major markets, namely the United States, China, the European Union and Japan will continue to grow from last year as the demand from these economies steadily recovers from the pandemic. These have had a positive trickle-down effect on domestic supply chains.
In alignment with the national agenda, Exhibitions Department of Thailand Convention and Exhibition Bureau (TCEB) continues to proactively co-create a journey and connect global collaboration for future growth of exhibitions with exhibition stakeholders not only in Thailand but also around the world. Thailand and TCEB are looking forward to welcoming you all in 2022.
Explore your business opportunities in ASEAN with us, please contact exhibitions@tceb.or.th.
*Source : Thailand  Development Research Institute.