News from European Exhibition Industry Alliance (EEIA) 
EEIA and ECA GED Panel discussion at IMEX Frankfurt 2022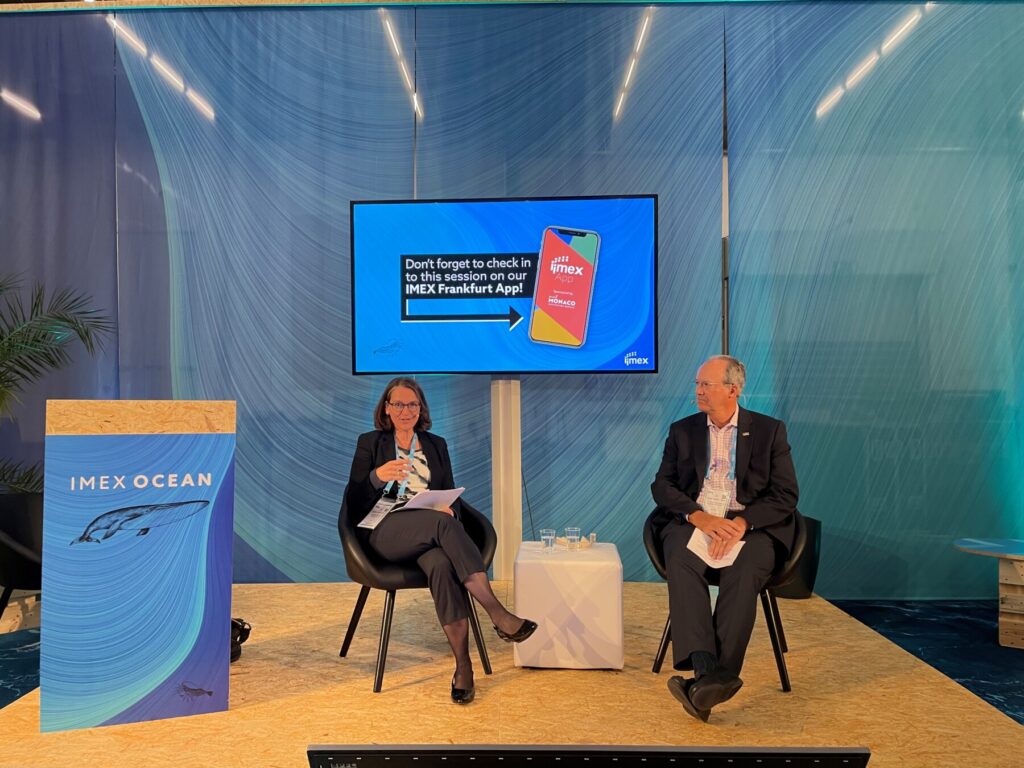 For this year's Global Exhibitions Day, EEIA's Barbara Weizsäcker and David DuBois, representing its US counterpart ECA, spoke at a panel session on 1 June 2022 at IMEX in Frankfurt. The session was part of IMEX' Education Programme: "Policy engagement: Driving the future of business events globally". Weizsäcker and Du Bois explained their respective advocacy journey and efforts to engage policymakers in Europe and the US to support and enable the future of business events. Around 20 participants learned about the various ways of maintaining government contacts and the similarities and differences between the EU and US advocacy.
Besides the main advocacy topics and successes during the pandemic – relief and aid schemes, reopening and harmonised travel rules, recovery and current as well as future items of interest were presented. Some are more specific such as relief and incentive funds or insurance schemes, others target current universal challenges with geographic implementations, such as sustainability with the long term plans for Green and Digital Transition in Europe, a transformation that will come about all around the globe. JMIC's Net Zero Carbon Events initiative was also mentioned as a global answer from within our industry to the challenges – serving as proactive input everywhere to the policy processes for the transition. Further, new transatlantic talks in many fields have resumed on a political level under the EU-US Trade and Technology Council. For these developments, both EEIA and ECA will align their input and responses in order to achieve a most favourable outcome for trade, technology, SME policy, R&D and many more areas that will benefit the exhibitions sector.
In all these initiatives, our sector can play a leading role in bringing together industry players and policymakers. In order to change fast and at large scale, exhibitions, conferences and other business events will be crucial platforms for the targeted transformations. The examples presented showed that also for the advocacy, our industry came close together in times of challenges and exchanging ideas, approaches and joining forces will bring us further.
---
News from Exhibitions & Conferences Alliance (ECA)
1. Small business relief
On Thursday, May 19, the U.S. Senate failed to advance the Small Business COVID Relief Act of 2022 on a 52-43 vote
• While a majority of Senators voted in favor of moving to debate on the legislation, it needed 60 votes to break a filibuster (of note, three supporters were absent)
• At this point, the path for small business relief in the Senate is unclear, though the bill's sponsors, Sens. Ben Cardin (D-MD) and Roger Wicker (R-MS), remain committed
• While disappointed, ECA will continue to prioritize advocacy efforts on Capitol Hill that
support our industry's hard-hit small businesses, including as a cornerstone of our
upcoming ECA Legislative Action Week
2. International travel
New research from U.S. Travel finds that 46% of international travelers would be more likely to visit the U.S. if pre-departure testing requirements for vaccinated adults were lifted
• On Monday, May 16, a bipartisan group of lawmakers from Nevada called on US President Biden to remove pre-departure testing requirements as soon as possible
• ECA will include this ask as part of ECA Legislative Action Week, along with restoring visa interviewing and processing capacity at U.S. embassies and consulates globally
3. Healthy Workplaces Coalition
ECA is pleased to support the new Healthy Workplace Coalition, led by ISSA – The Worldwide Cleaning Industry Association, which will advocate for policies designed to incentivize clean and healthy workplaces beyond COVID-19 (see attachment for more information)
• ECA encourages its alliance partners to join this important effort at no cost by emailing John Nothdurft from ISSA at johnn@issa.com.
See more details on the press release here: https://www.ufi.org/wp-content/uploads/2022/05/2022-05-20-ECA-WASHINGTON-DC-UPDATE.pdf
---
TCEB – An Update
Be Ensured of Your Exhibition Success in Thailand through TCEB's Smooth Journey for International Participation
As Show Organizers, you can be worry-free for your exhibitor and visitor participation in Thailand. Exhibiting and visiting trade shows here gets much easier and seamless. International exhibition entrepreneurs are facilitated with first priority service, convenience and effective procedures. It's time to take your business to the next level in Thailand and beyond!
From this 1 May onwards, after the relaxation measures on the "Test & Go" scheme in Thailand, all international arriving air travelers are warmly welcome whether with/without vaccination and with/without RT-PCR test before departure from their countries of origin. Still, different entry procedures for seal route and quarantine are applied.
In this regard, Thailand Convention and Exhibition Bureau (TCEB) sees the need to create a unified business environment and, thus, has provided "One Stop Service" to facilitate MICE organizers and participants to Thailand while raising the ease of doing business in Thailand and improving the competitiveness of the Thai MICE industry. TCEB's Exhibitions Department, in particular, has charted its course to facilitate and co-create a new chapter of exhibitions and take Thailand's exhibitions to fly smoother and higher.
"Thailand MICE One-Stop Service" has, thus, been initiated as a "digital platform" to provide comprehensive information for MICE operators, international organizers, event entrepreneurs and participants to access information and services conveniently and timely. The Service Centre reflects TCEB's strong commitment and a role, originally an industry supporter, to be the industry's co-creator and facilitator. The initiative, aligned with the National Strategy, aims to enhance competitiveness to the Thai MICE industry and drives Thailand as a destination for world MICE events.  Besides, TCEB formulates MICE Logistics, based on "Ease of Doing Business" policy, to help simplify MICE participant and goods entry, as well as show exhibits procedures at every step of the MICE- pre, during, post, which leads to business growth and expansion of all MICE entrepreneurs in the long run.
Also, with an aim to provide effective advisory and information to MICE entrepreneurs, TCEB has been working along with related government agencies and industries through an operational mechanism of collaboration called Joint Operating Committee (JOC) in order to solve complex issues at all stages of MICE ecosystem. We collaborate with government agencies to facilitate MICE activities in Thailand particularly areas of goods logistics and travelling process of MICE travellers.
Explore more details, please visit https://www.thaimiceoss.com/en/ or contact: exhibitions@tceb.or.th.