EEIA News from Brussels
EEIA met with EUIPO 
EEIA welcomed Nicolas Vigneron and Alessandro Corrado from the European Union Intellectual Property Office in Alicante. – Pictured below.
We discussed possible collaboration for the promotion of EUIPO's new tools for SMEs, via webinars, newsletters, exhibitions' websites. Furthermore, EEIA stressed the need to enshrine the modern definition of professional exhibitions into the EU Design directive when it will be revised. The aim is that EUIPO can also accept design registrations based on Exhibition Priority Certificates as do all the National Patent Offices. The Exhibition Certificate is an important tool for SMEs to protect their products from being copied by activating the Unregistered Community Design and allows for retroactive registration of IP with the date of the exhibition.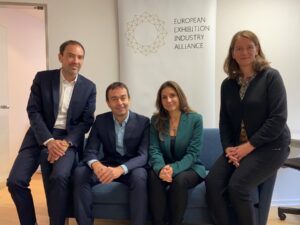 EEIA intensifies networking and advocacy with stakeholders and institutions
SME Europe and SME Connects are important multiplier groups in the European Parliament's conservative and liberals sphere. Barbara Weizsäcker discussed with its Secretary General about the strategic role of exhibitions for the rebound of the economy, strengthening European resilience and actively boosting the green and digital transition, especially for SMEs. Joint events will be in the pipeline for spring 2022 to reach out to a wider European Parliament audience. Furthermore, Barbara Weizsäcker and Sara Lanzilotta met with various stakeholders, MEPs offices and the European Commission to stress again the need for harmonised travel rules, including acceptance of all WHO vaccines and no quarantines any more for business travellers who attend exhibitions or conferences.
Guest speaker Eric Philippart from the European Commission's DG Grow, who is responsible for the travel and Tourism Ecosystem, attended the EMECA General Assembly, recently held at Jaarbeurs Utrecht. He informed about the support provided on European level to soften the effects of the pandemic for the sector and explained the policy shaping underway to set the goals for the green and digital transition in the Travel and Tourism ecosystem, to be followed by all other ecosystems. He also stressed the harmonisation efforts from the European Commission side concerning the travel regulations which are competence of the Member States and the successful European Digital Covid Certificate which has already been adopted by a number of extra-EU countries and could become an international standard.
EMECA Members provided input as to the current problems impeding the full recovery, such as staff shortage and talent attraction, insurance for health related event cancellations, financial aids, and above all the condition for full recovery: the urgent need to harmonise the lifting of travel restrictions, no quarantines, allowing business travel for exhibitions and events for vaccinated travellers and recognition of all WHO approved vaccinations for that aim. It was also pointed out that trade fairs and business events will be the strategic tool to implement the green and digital transition in a successful and speedy way across all industrial sectors.
Besides, the EU-funded Overseas Trade Fairs 2.0 project is working on organising the first European pavilions on CES Las Vegas and Arab Health in Dubai in early 2022. Given the uncertainty of travel regulations, the planning had to be adjusted and participation to some shows could not be maintained. However, the first European start-ups will benefit from the project very soon and EEIA can prove our sector's efficiency in offering business and growth opportunities.
---
TCEB – An Update
Embracing Exhibition Business Opportunities in Thailand "Together Again"
Your waiting is over as Thailand's skies are reopened and more than ready to welcome you all back here for tremendous business opportunities and longing impression once again.
Southeast Asia is growing steadily. Owing to the geolocation, ongoing mega-investment, state-of-the-art exhibition venues, infrastructure development and talented human capitals, Thailand in particular possesses a complete suite of magnet to be the ASEAN's gateway for professional exhibition organizers (PEOs), exhibitors and visitors from all over the world.
Under the "Together Again" concept in the 88th "UFI Global Congress" during 3-6 November 2021 at Rotterdam Ahoy, Rotterdam, the Netherlands, as the largest annual meeting for the world's exhibition industry, Thailand Convention and Exhibition Bureau or TCEB has then designed numerous collaborations to open up new chapters of exhibitions, and to enhance every success of international exhibitions through a series of 360-degree support policy and incentives. Our theme, "Co-creating Exhibition Future", focuses on win-win collaborations with professional trust, whereby, international organizers can meet our representative to explore ideas of connection, upcoming opportunities and co-organisation of international exhibitions in Thailand.
We are ready to partner up with you and all global PEOs to hit the market of more than 600 million people. Come visit us at the 88th UFI Global Congress for plentiful opportunities, and experience how TCEB can be your reliable co-creator and partner for success.
For details, please contact exhibitions@tceb.or.th.
---