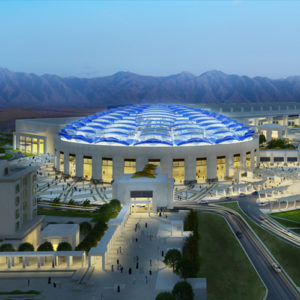 87th UFI Global Congress
9–12 November 2020
Oman Convention & Exhibition Centre, Muscat, Oman
UFI Members Only
87th UFI Global Congress Host & Venue: Oman Convention & Exhibition Centre

About UFI Global Congress
UFI's Global Congress – the exhibition industry's annual global gathering
UFI's annual Global Congress is known as the exhibition industry's largest global meeting of the year, combining international networking with unique content. It is an ideal opportunity for members to gain insight into topics of strategic interest, on the current industry trends and challenges that the exhibition industry is currently facing.
Open to UFI members only, it is known as the "must attend" event for all industry professionals.
Registration for UFI Members
UFI members are invited to pre-register for the Congress and receive congress updates.
What to expect?
Each Congress Day brings new input, experiences and new, valuable networking opportunities. See all the Congress Days of the last UFI Global Congress here: Day 1, Day 2 and Day 3.
You can also browse through the UFI Global Congress memories on Flickr
Xchange Sessions
Xchange sessions allow delegates to hear directly from specific players in our industry about their developments and insights relevant to the industry at large. These talks focus on Destinations and Event Tech
Chapter Meetings
This is the time for UFI's regional chapters to meet – to update on developments in their part of the world, and to discuss ongoing initiatives and activities
SIG – Special Interest Groups
UFI's Special Interest Sessions offer you the choice to zoom into specific issues in a more intimate environment. The sessions are fast-paced and interactive.
Best Practise
Sharing best practices is at the heart of our association, and with the annual UFI Award Programme, UFI receives many outstanding industry success stories to share among industry professionals.
During this Special Interest Group, the 2020 UFI Award winners will present their innovative industry solutions.
Next Generation Leadership Session
A session for those interested in a millennial perspective on how to appeal to future generations.
The UFI NGL Grant promotes next generation leadership in the exhibition industry, rewarding professionals who show clear initiatives in driving change and innovation in their area of activity. This grant is awarded to up to five industry professionals every year.