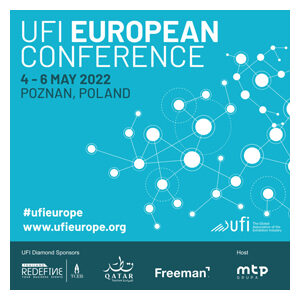 UFI European Conference 2022
4–6 May 2022
Hosted by Grupa MTP, Poznan, Poland
All Industry Professionals
The 2022 UFI European Conference took place over the course of three days, putting the spotlight on important industry topics and challenges faced by exhibition and event industry professionals.
The event, which took place in Poznan, Poland, was hosted by Grupa MTP and offered a blend of keynote sessions, interactive workshops, networking and social activities.
Read more here
The UFI European Conference is the leading European exhibition industry event, a trusted platform to bringing colleagues together from across Europe and beyond every year.
The event attracts approximately 300 industry leaders from organisers, venues & service providers.