Informa Brazil is winner of the 2018 UFI Marketing Award.
The UFI Marketing Award has been recognising exemplary marketing initiatives since 2001. The theme of this year's award was innovative formats and how they help to make successful events. The winner needed to demonstrate best practice by successfully implementing an innovative exhibition format.
All finalists presented their projects to the UFI Marketing Committee as the UFI European Conference (please add link tomorrow event) was taking place in Verona. After the presentations, the jury collectively selected Informa Brazil as the winner.
"It is a great honour," said Lilian Burgardt, Head of Digital Products for Brazil at Informa. "We are grateful for the unique opportunity to present our vision to market leaders about how to integrate face-to-face and digital media, thereby supporting the evolution and transformation of the exhibitions industry. Personally, it is still a source of great pride to be part of a team of talented people who devote themselves, each day, to make this 360 strategy happen. UFI's recognition also shows that Informa is on the right track by putting the audience (face-to-face and digital) first, implementing a cross-platform strategy in its B2B events for 365 days a year to connect brands and people."
All UFI Award winners shared their best practice within the programme of the 85th UFI Global Congress in Saint Petersburg (Russia).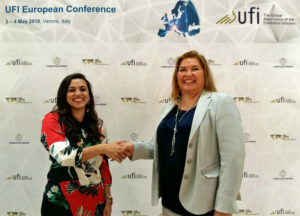 Lilian Burgardt, Head of Digital Products for Brazil at Informa and Elena Chetyrkina, Head of Marketing Analysis Department at RESTEC Exhibition Company
Download the Presentation from Informa