Sponsored by:

2020 NGL GRANT!
The UFI NGL Grant promotes next generation leadership in the exhibition industry, rewarding professionals who show clear initiatives in driving change and innovation in their area of activity. The programme is spread over a period of 18 months, allowing you to continue to fulfill your daily work obligations.
CONGRATULATIONS to the five talents who joined the 2020 UFI NGL Grant programme: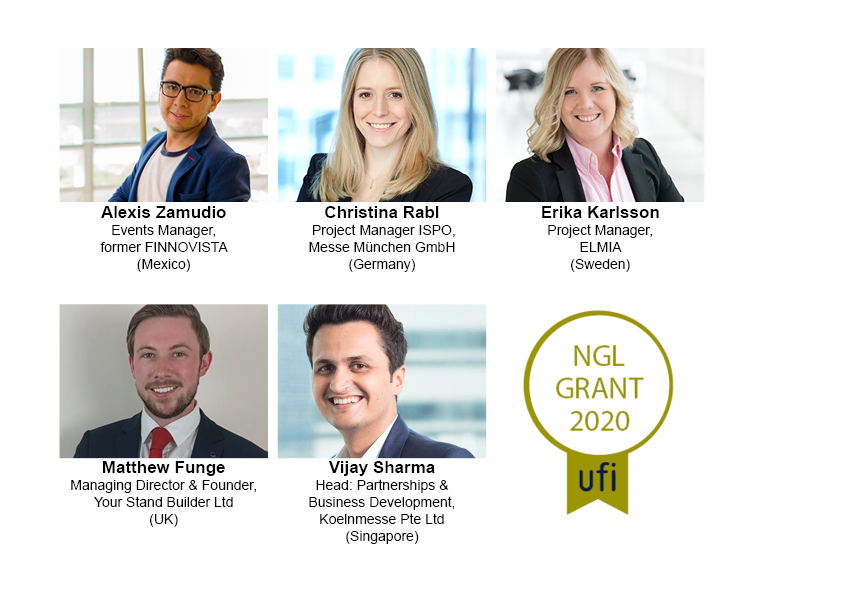 2020 NGL GRANT MENTORS
UFI thanks the mentors for their support:
Chris Preston, Managing Director EMEA at Freeman, UK
Eddie Choi, Managing Partner at Mills, Singapore
Garcia Newell, Regional Business Development Director – Fairs & Events Europe at Agility, UK
Laura Barrera, Group Show Director at Tarsus México, Mexico
Lou Kiwanuka, Director at The Shaper Group, UK
2019 NGL Grant programme
Carolin von Tippelskirch, Protocol and Corporate Events, Deutsche Messe AG (Germany); Cinzia Zanin, Research and Development, Fondazione Fiera Milano (Italy); Fuad Musafir, Business Development Manager Exhibition and Live Events, Oman Convention and Exhibition Centre (Oman); Katie Thompson, Senior Content and Project Manager, The Design Group | Global Exhibitions Informa (USA); Laura Docampo, Head of Digital Transformation, Fira de Barcelona (Spain).
Sponsored by:

2018 NGL Grant programme
Lilian Burgardt, Head of Digital Products for Brazil with Informa, Brazil; Glen Foulstone, Senior Project Manager with GES, UK; Miranda Martin, Portfolio Director, Niche events with Fresh Montgomery, UK; Maria Tsedeviyn, Head of Advertising, Design and Internet Division Marketing, Advertising and PR Department at Expoforum International, Russia.
Sponosred by:

2017 NGL Grant programme

Selin Cakici, Vice-Chair of the board, HKF TRADE FAIRS (Turkey); Katharina Keupp, Project Consultant, Messe Munich (Germany); Neo Mohlatlole, Business Development Director, Seven Colours Communications (South Africa); Thomas Revell, Sustainability Manager, GES (UK) and Diana Salman, HR Strategic Change Manager, IFP Expo (Lebanon).
Sponsored by:

2016 NGL Grant programme recepients: Adeline Larroque Desages, Acting Head of Exhibition Planning and Organisation Section, Qatar Tourism Authority (Qatar); Jennifer Feeney, Account Director, Freeman XP (USA); Vineet Mahajan, General Manager, Reed India (India); Farokh Shahabi Nezhad, Co-Founder, Eventbox (Iran) and Matthias Pollmann, Project Manager interzum, Koelnmesse GmbH (Germany).
Sponosred by: