C-level mentoring to support your career ambitions
Opportunity to present your ideas and vision on the main stage at the UFI Global Congress
The UFI NGL grant promotes next generation leadership in the exhibition industry, rewarding professionals who show clear initiatives in driving change and innovation in their area of activity. The programme is spread over a period of 18 months, allowing you to continue to fulfill your daily work obligations.
Apply for the UFI NGL Grant 2019 today
15-17 May 2019: Workshop & participation UFI European Conference, Birmingham, UK
May – Oct 2019:  1.5 hours per week to prepare your session for the UFI Global Congress
6 – 9 Nov 2019: Presentation at UFI Global Congress, Bangkok, Thailand
Nov 2019 – Oct 2020: Mentoring programme
How to apply
By 1 March 2019 provide us with:
1. Your video statement (maximum two minutes).
2. Written application (maximum two pages).
3. Completed mentorship matchmaking form.
4. Signed statement from your employer agreeing for you to join the grant programme.
UFI NGL Grant Application
The recipients of the 2018 UFI NGL Grant are: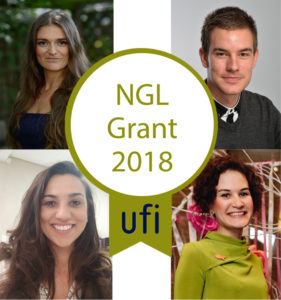 Lilian Burgardt, Head of Digital Products for Brazil with Informa, Brazil
Glen Foulstone, Senior Project Manager with GES, UK
Miranda Martin, Portfolio Director, Niche events with Fresh Montgomery, UK
Maria Tsedeviyn, Head of Advertising, Design and Internet Division Marketing, Advertising and PR Department at Expoforum International, Russia
2018 NGL Grant Jury:Joyce DiMascio, Chief Executive, EEAA (Australia);Kai Hattendorf, Managing Director/CEO, UFI (France);Corrado Peraboni, UFI President 2018, Chairman of the Board, Cipa Fiera Milano (Brazil);Eleonora Robuschi, Programmes & Projects Coordinator, UFI (France); and Diana Salman, Head of HR & Organization Development, IFP Expo (Lebanon).
Sponsored by:

2017 NGL Grant programme

The winners of the 2017 UFI Next Generation Leadership grant are: Selin Cakici, Vice-Chair of the board, HKF TRADE FAIRS (Turkey); Katharina Keupp, Project Consultant, Messe Munich (Germany); Neo Mohlatlole, Business Development Director, Seven Colours Communications (South Africa); Thomas Revell, Sustainability Manager, GES (UK) and Diana Salman, HR Strategic Change Manager, IFP Expo (Lebanon). Sponsored by UBM.
Diana Salman, HR Strategic Change Manager, IFP Expo (Lebanon), NGL grantee 2017: "Applying to the NGL Grant 2018 is a great opportunity to advance your career in the exhibitions industry, be part of multicultural team of industry professionals, share your thoughts about the industry's future, and be an active advocate for the value of face-to-face meetings."
Katharina Keupp, Project Consultant, Messe Munich (Germany) , NGL grantee 2017:  "It was very exciting to participate so intensively in the exchange of the industry. Especially valuable to me was working with the other four NGL grant winners. These are contacts for life. Applications for the NGL Grant 2018 will run until February. I warmly recommend that interested colleagues apply, especially since the mentoring in the support program is being expanded. This opportunity should not be missed."

Click here for the media release.
2016 NGL Grant programme recepients: Adeline Larroque Desages, Acting Head of Exhibition Planning and Organisation Section, Qatar Tourism Authority (Qatar); Jennifer Feeney, Account Director, Freeman XP (USA); Vineet Mahajan, General Manager, Reed India (India); Farokh Shahabi Nezhad, Co-Founder, Eventbox (Iran) and Matthias Pollmann, Project Manager interzum, Koelnmesse GmbH (Germany). Sponosred by Reed Exhibitions.