SAVE THE DATE: The eigth annual Global Exhibitions Day will take place on 7 June 2023
The seventh edition of Global Exhibitions Day (GED) took place on 1 June 2022, celebrated and promoted the role of face-to-face business events in driving the global economy. Exhibitions have always played a role in bolstering and growing economic sectors – and this year has been no exception. This year's GED campaign focused on the irreplaceable value of physical exhibitions and face-to-face business events in creating platforms for economic growth and recovery. It also provided the perfect occasion to catch up, network, and meet new people.
As the world moves past the pandemic, the industry is seeing the re-emergence of face-to-face events. Indeed, through global participation both in-person and online, Global Exhibitions Day 2022 reached new audiences, showing the true power and growth of this industry. It demonstrated that everyone in the exhibitions industry – from individuals to businesses and associations – has a role to play in creating professional, educational, and financial opportunities.
In the lead up to the day and during, according to UFI's numbers*, the GED campaign reached more than 800 million people around the world by the campaign online alone – through unique social media and web posts, messages and comments. In Italy, Spain, and Macau, the campaign activated major endorsements from senior government officials and economic and foreign affairs ministers. From conferences and debates, to breakfasts and social gatherings, to group photos and creative videos, and more, tens of thousands celebrated the people and the power of the exhibitions industry.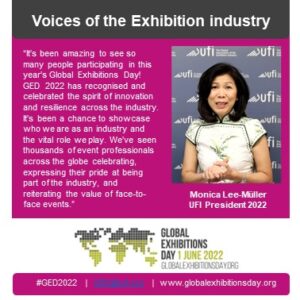 Much like the exhibitions and events that the industry hosts, GED 2022 has showcased what the industry can offer, including our ability to tell inspiring stories. Some of the most prominent actions during this year's GED have been the 'Voices of the Exhibition Industry' quote cards, celebration videos and the memorable exhibition moments added on globalexhibitionsday.org.
CLICK HERE TO SEE HIGHLIGHTS FROM GED 2022, BY REGION
The mission to share the key messages from GED will continue throughout the year, and a date is already in place for next year's event, on 7 June 2023 – traditionally the first Wednesday in June.
As in previous years, GED partners work together to advocate for the exhibitions industry.
Thanks to our partner associations supporting #GED2022:
AAXO, AEFI, AEO, AFE, AFECA, AFIDA, AMPROFEC, AOCA, AUMA, CAEM, CEFA, CENTREX, CFI, EEAA, EEIA, EFU, EMECA, EXSA, FAIRLINK, fwd: Bundesvereinigung Veranstaltungswirtschaft e.V. , HKECIA, ECA, IDFA, IECA, IEIA, IELA, IFES, LECA, MACEOS, MFTA, PCEI, SACEOS/SECB, SCEIA, SISO, TEA, TECA, TFOA, UBRAFE and UNIMEV.
Thanks to Clarion Events, Comexposium, Diversified Communications, Emerald, Informa Markets, Reed Exhibitions (RX) and Tarsus, joining forces in order to recognise the important role that trade exhibitions play in driving economies throughout the world.
Any question? Contact us: ged@ufi.org