NEWS FROM THE REGIONS
News from LatAm 
UFI LatAm Conference, a hybrid event that brought together 200 industry leaders from across the region.
The 3 day event was broadcast from Corferias, Bogota with speakers joining in person from Mexico, Colombia and Bolivia. This hybrid experience had 32 speakers sharing their expertise and vision about the future of the industry in Latina America.
Entertainment was a major component of the event with a magician show and 2 contests where participants could win a ticket to the upcoming Conference in 2022.
Colombian-based company Incontacto provided the platform which offered simultaneous translations in Spanish, English and Portuguese and allowed delegates to network face-to-face and continue discussions in between keynotes at break out rooms. More interactivity and engagement were provided by Beekast, a collaborative tool that allowed participants to vote and share their content.
Speakers from across the region and beyond provided updates and insights into topics as diverse as government policy updates, best practices on adapting events to the current context, and opportunities and trends. Meanwhile, industry experts covered global opportunities from a Latin American perspective.
UFI's LatAm Chapter Chair José (Pepe) Navarro Meneses (Tarsus, Mexico) and Vice-Chair Raul Strauss (FEXPOCRUZ, Bolivia) accompanied UFI´s Regional Director Ana Maria Arango among parallel activities that took place in Bogota. The Chapter leadership took the opportunity of the visit to meet with colleagues from AFIDA and UFI members in Colombia to discuss the ongoing crisis and how UFI can support the region in the coming months.
---
News from Europe 
Town Hall meeting – Wednesday 15th September 11:00-12:00 CET. We are hosting our first "Town Hall" style meeting where members can speak freely, discuss what's on their mind, connect with other members around Europe and talk to the UFI team and the Chapter leadership.  Please register here.
---
ETT Club
ETT Exhibition Marketing Months: Exploring the Best Reopening Marketing Strategies
ETT club is delighted to announce its new mission "ETT EXHIBITION MARKETING MONTHS:  Exploring the Best Reopening Marketing Strategies". Exhibition Industry Professionals from around the world are gathering to share their experiences, innovate and contribute towards the success of our industry as the pandemic has become a part of what we do. Panel discussions, presentations of new marketing technologies, innovation and networking opportunities. The sessions will be a fantastic way to discover how the industry is tackling new challenges across the glove and help professionals share their experiences and learn from one another. Join our upcoming events to explore the Best Reopening Marketing Strategies.  Come back stronger and innovate.
ETT Club, a global platform, is always interested in hearing your suggestions and helping you find the right format to host an event. Please contact us if you have an idea and would to host a session to join the ETT mission.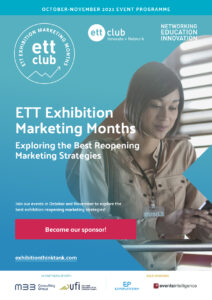 Click here to download the brochure
---
EEIA News from Brussels
EEIA Advocacy
The advocacy efforts of EEIA are currently focussing on updating the institution on the current state of our industry; delivering input for a new Tourism Industry Policy via informal talks and input to a public consultation; flagging the need for opening up business travel into Europe from relevant markets via informal and formal talks and pushing for European Digital Covid Certificate to become global standard for travelling (as proposed by IATA) via informal and formal talks. Barbara Weizsäcker also contributed to the UFI Latam Conference's exchange on public affairs action and experience, with the aim to enhance collaboration across the continents for the advocacy.
State Aid for Italian Exhibition Industry
The European Commission has approved, under EU State aid rules, a €520 million Italian scheme to compensate companies active in the trade fairs and congress sector and their service providers for the damages suffered due to the restrictive measures introduced by the Italian government to limit the spread of the coronavirus. Under the scheme, eligible beneficiaries will be entitled to compensation in the form of direct grants for part of the damages incurred between 9 March and 14 June 2020 and between 24 October 2020 and 14 June 2021, periods during which, under the restrictive measures in place, the organisation of such events was not allowed.
The Italian authorities will verify that no overcompensation will occur by setting the damage based on the net losses incurred.
Smart Tourism Destinations project – call for data experts
The 'Smart Tourism Destinations' project is funded by the European Commission DG GROW. The objective is to support EU cities in their path toward a green and digital transition aimed at improving smart and sustainable management of urban tourism destinations in the EU through data mastering, understood as the ability to collect, curate and re-use touristic data in accordance with a coherent strategic plan. The project has just launched the first open call for experts for a pool of 10 European independent experts in the fields of tourism, digitalisation and data management. Deadline for submitting the application is September 30th, 2021. A second call to be published soon will aim at selecting a group of 50 destination managers who will take part in a wide range of capacity building activities. Exhibition and Congress venues, that generate substantial visitor flows to their cities, should connect to the project to benefit from smarter overall city data management, challenge solving and enhanced collaboration. Do so by clicking here.
---
TCEB – An Update
Dear Industry Fellows,
I believe the opportunity is still plentiful, and a special situation requires a special approach. This gives us a good reason to work together as a team, to remain strong and move our exhibition industry forward.
Amid the COVID-19, there are not always loss and failure. Imagine you own a face mask, rubber glove, electric vehicle, solar panel, chip making, lithium battery or food processing company, it can be a different world because the pandemic also brings business opportunities that match market requirements.
Today, the world is changing rapidly, and so does Thailand.
Currently, Thailand is doing a lot to adjust to new normal and to move to a new level. Our country is changing with a more balancing approach. On one side, Thailand is to fix its weakness, while on the other side the country is catching up with the global mega trends. We also aim to boost working skills, to strongly promote industries that respond better to the global warming issue, and to promote businesses on the strengths of Thailand.
To fulfill them, TCEB has been launching our "Recovery Campaign" including COVID package, New Show Essentials, ASEAN+6 Privileges, Exhibiz in Market and Exhibition Clinic.
Should you like to learn more about what we think, our development and marketing plans, TCEB is always pleased to welcome you at exhibitions@tceb.or.th.
From the TCEB President
---
Shenzhen World – An Update
Since June this year, due to the interweaving of sporadic and clustered outbreaks of Covid-19 in some parts of China, the country's convention and exhibition industry has suffered different levels of impact in different areas and the entire industry is forced to pause.
Large-scale exhibitions that were originally scheduled for July and August in Shenzhen World Exhibition & Convention Center have been successively delayed, bringing no small challenges to both the venue and organizers. Though hindered by by the volatile epidemic situation, Shenzhen World Exhibition & Convention Center has tried to facilitate events rescheduling to avoid slot conflict while giving full respect to the preferences of different organisers.
In September, Shenzhen World Exhibition & Convention Center will see the opening of many excellent exhibitions and events including the 1st China (Shenzhen) Cross Border E-Commerce Fair (CCBEC), the 23rd China International Optoelectronic Expo (CIOE), South China International Industry Fair (SCIIF) and the 17th China (Shenzhen) International Cultural Industries Fair (ICIF).
The 1st China (Shenzhen) Cross Border E-Commerce Fair (CCBEC) is to be held in Shenzhen World Exhibition & Convention Center from September 16 to 18. Organized by Messe Frankfurt (Shenzhen) Co., Ltd,Beijing Talent-Expo Co., Ltd, Shenzhen China Merchants Exhibition Management Co., Ltd and Shenzhen OCT Bay Area Development Co., Ltd, the exhibition covers an area of more than 100,000 m2. The Greater Bay Area where Shenzhen World Exhibition & Convention Center is situated provides an exceptional environment for the development of e-commerce.
The exhibition will gather more than 3,000 cross-border exhibitors and experts, including well-known platforms and service providers such as Amazon, Ebay, Walmart and Alibaba.com. With the aim of creating a one-stop service platform for e-commerce and promoting one-stop-shop provision of top-notch products with hundreds of millions of sales, CCBEC is expected to be the most anticipated cross-border exhibition of the year.
As a comprehensive exhibition with a large scale and great influence in the optoelectronic industry, the 23rd China International Optoelectronic Expo (CIOE) previously scheduled for September 1-3 will be delayed to September 16-18 in Shenzhen World Exhibition & Convention Center, covering an area of 160,000 m2. Consisting of various blocks including information communication, laser, infrared, ultraviolet, precision optics, lens and modules and sensing, the six concurrent exhibitions of CIOE will demonstrate cutting-edge optoelectronic technologies and comprehensive solutions in the field of optoelectronic and its applications, present latest information of the industry and the development trend of the market, and support companies to achieve business cooperation in their negotiations with the upstream and the downstream of the optoelectronic industry.
On September 23-27, the 17th China (Shenzhen) International Cultural Industries Fair (ICIF) will move from Shenzhen Convention & Exhibition Center to Shenzhen World Exhibition & Convention Center, boasting 120,000 m2 exhibition space, almost 20,000 m2 bigger than the previous session. ICIF this year represents as an important exhibition held in the year of the 100th anniversary of the founding of the Communist Party of China. Also, after epidemic containment has become a normal, this is the first time for ICIF to be held both digitally and on-site. Through this new hybrid model, the scale, operating mode, event brand and quality will be upgraded in an all-round way, which will make the event a full embodiment of the concept of "new era, new ICIF, new image, new content and new effectiveness".
On September 27-29, 2021 South China International Industry Fair (SCIIF), an international industrial expo with the greatest influence and authority in the Asia Pacific region, will be held in Shenzhen World Exhibition & Convention Center, occupying 4 exhibition halls and including 8 themes. SCIIF this year will see an increase of 30% compared with last year in its overall scale.
By integrating industrial resources and advantages of world-leading industrial exhibitions, the event aims to attract a great many manufacturing companies to bring their new products released nationwide or worldwide, and fully demonstrate vitality and broad prospect of the manufacturing industry in the Greater Bay Area. SCIIF serves as a high-quality platform in the post-epidemic era for manufacturing companies in the southern part of China to have direct contact with world-leading industrial technologies.
For more details about events, please visit www.shenzhen-world.com.
---