Target Group: Mid to Senior representatives from Exhibition Organising Companies
Dates: We have the following UFI-EMS online programmes ready for you:  19 – 29 June 2023 / 18 -28 September 2023. Choose your best fit.
Language: English
Format: Online (10 sessions: Presentations, Group Work and Networking)
Participation Fees*:
895 € UFI Member
1,195€ non UFI-members
UCP: 20 UCP credit hours = foundation programme
*Prices displayed exclude VAT
Register here
For any questions, please contact us at: ems@ufi.org.
5 Good Reasons to join
Enrich your business network: Work alongside industry peers and grow your global network.
Upgrade skills: Continue to stay on top of market trends and developments in the exhibition industry. The programme will cover a wide range of relevant industry topics.
Grasp the value of online training: Set to two hours per topic, the online UFI-EMS will allow you to take part in the training in addition to your day to day obligations.
Continuous interaction: Access to focused Alumni group on the worldwide ETT Club industry e-platform.
Globally recognised certification: Graduates from the UFI-EMS will receive a certification of completion which automatically count towards the UFI Certified Professional Designation.
Testimonials
"The events landscape is ever-changing and for me as a MICE practitioner who has been in the industry for 20+ years, I have benefited greatly from attending the UFI-EMS course and other specialised courses provided by its training partner/s. I have been able to gain new insights, enhance my knowledge and get new perspectives from the speakers and trainers from diverse backgrounds. The courses are conducted in a highly engaging and interactive way where I also get to know many industry peers from around the world."
Julia Kwan, Group Project Director, MMI Asia Pte Ltd (Regional HQ of Messe München), UFI-EMS participant 2022.
"No matter your level of experience, you never stop learning! Levelling up, Re-skilling and staying up-to-date is the way to go! Top it off with an incredible group of like-minded professional in the industry and you are guaranteed to be inspired! I am looking forward to sharpening my industry knowledge, learning from top-level executives and exchanging with peers in this A-class exhibition management course. Thumbs up! Francesco Glorioso
Product Manager – Brand Marketing – RX France. UFI-EMS Participant Europe 2021.
"I am totally blown-away by UFI-EMS, every session is a different experience. The learnings from the experts presenters, content shared and the rest of the attendees are priceless. It is lovely to meet everyone, even if only online to learn from each other, as this is how we make our events stronger. I will always be of the opinion that one is never too old to learn and implement new ideas, and this is what this course is all about. Thank you to UFI and MBB Consulting for putting such a phenomenal programme together as well as creating a platform to make new industry friends." Adele  Eloff – Manager: Exhibitions and New Event Sales at CTICC. UFI-EMS Participant Europe 2021.
"I am proud to be part of the UFI EMS which provides the opportunity to bring together, and to support, the current and the future talent of the global exhibition industry. Never has there been a more prudent time for our industry to learn, to adapt and evolve, and to continue do what we do best, and that is to deliver meaningful events that are fundamental to regional and the global economy." Ashley Roberts – General Manager at Omanexpo. UFI-EMS Lecturer MEA 2021.
"I thoroughly enjoyed the UFI-EMS course and being able to interact with other event professionals from all over the world.  The focal points and priorities were slightly different when working on projects but the overall goals were the same, and this was really interesting to learn.  I look forward to keeping in touch with this great group of people and hopefully meeting them in person in the future." Amie Gonzalez – Director at Informa Markets. UFI-EMS Participant MEA 2021.
"The modules and case studies in EMS course have provided me with the knowledge that will prove invaluable later on in the Exhibition Industry". Talal Al Habsi – Business Development Manager at Oman Convention & Exhibition Centre. UFI-EMS Participant MEA 2021.
"The UFI – Exhibition Management School was an excellent opportunity to interact and learn from the professional experts and peers from our exhibition industry. The combination of interactive online discussions coupled with team workshops enabled us to investigate issues, develop solutions and evaluate practical potential situations. We will continue to send senior management to this program. Thanks to the UFI Team!" Diane CHEN, General Manager and Member of the Board of Shenyang New World EXPO. UFI-EMS Participant Asia-Pacific 2020.
"It was a fantastic experience for me to be able to share my sales experience thru the UFI-Exhibition Management School lecture. I must say that the lecture was done professionally and very well organized. I would highly recommend this to anyone who wants to learn more about best practices in the trade exhibition industry. Thank you UFI and MBB Consulting Group for making this happen." Je Choong Yip (JC) – Senior Vice President Commercial at Reed Exhibitions Asia Pacific. UFI-EMS Lecturer Asia-Pacific 2020.
About
The UFI Exhibition Management School (UFI-EMS) is a continuum of the Exhibition Management Degree that UFI initiated and has been organising since 2007.
UFI and MBB-Consulting Group (MBB) are working to provide this new industry education programme for exhibition organisers: the UFI-Exhibition Management School (UFI-EMS). In the years to come, this collaboration will respond to a clear demand for high-level, focused quality education and training for the global exhibition industry.
The curriculum was developed jointly with the UFI community, making it a programme designed by exhibition organisers for exhibition organisers.
Topics include:
Budget and P&L
Customer Centricity & Care
Cross-Channel Exhibition Marketing
Digital Innovation
Global Business Development
Human Resources & Leadership
Agile Cross-Sales Strategies
Strategy Creation and Development
Global certification
Graduates from the UFI-Exhibition Management School will receive a globally recognised Certification for Exhibition Management. Participant's who miss no more than 2 sessions and who successfully pass the final exam receive the global certification by UFI & MBB Consulting.
Key supporters (task force)
UFI and MBB worked with an exhibition industry task force, made up of senior members from different exhibition organisers across all UFI member regions.
Abu Dhabi Convention & Exhibition Bureau (Suhaila Al Munthari), ATEX (Maged Mahfoud), Bolonga Fiere S.p.a (Giorgio  Contini), Comexposium (Laurent Noel), Cooperative State University BW  (Joerg  Beier), Diversified Australia (Siro Anemogiannis), Espacio Riesco (Sergio Gutierrez), Fiera Milano (Enrica Baccini), Fresh Montgomery (Lori Hoinkes), GL Events China (Jor Zhou),  Kuwait International Fair Co. (Abdul Rahman Al Nassar), La Rural (Juan Pablo Maglier), Messe Munich India (Bhupinder Singh), Montgomery West Africa (Alexander Angus), Nuernberg Messse (Satyendra Mehra), Reed Exhibitions Japan (Yoshi Tanaka), Reed Exhibitions Alcantara Machado (Alinne Rosa), Reed Exhibitions (Richard Mortimore), Riyadh Exhibitions Co. Ltd.  (Edward Rabbat),  Stockholmmaessan (Cecilia Henningson), Tarsus Mexico (José Navarro Meneses),Informa Asia (Margaret Ma).
Testimonials about UFI Education
"Participating in UFI's education programme was very valuable as it gave a thorough inside into the way the exhibition industry works. The trainers on the course were experts in their fields and brought a wealth of knowledge." Corporate Marketing & Communications, Dubai World Trade Centre.
"Earning my UFI exhibition management certification has helped me to better understand current trends that affect my business. Having in peer discussions with different participants and trainers was a value lesson for communication and offered plenty of time for networking". General Manager, ZZICEC, Zhengzhou, China.
"UFI education – A great experience. The programme offered an extensive education of high quality, including all important topics that are unique for the exhibition and event industry. The knowledge and experience gained during the programme has helped me greatly when dealing with both practical as well as strategic challenges. I recommend this course to anyone who wants to gain strategic insights and knowledge in the exhibition industry. " Project Manager, Adforum Ab, Finland.
Graduates
Muscat (2020)

Macau (2018)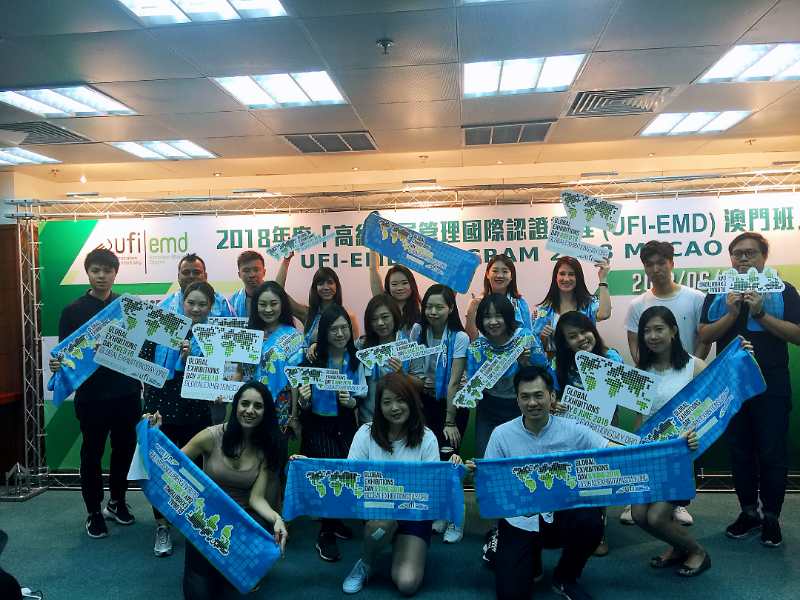 Riyadh (2018)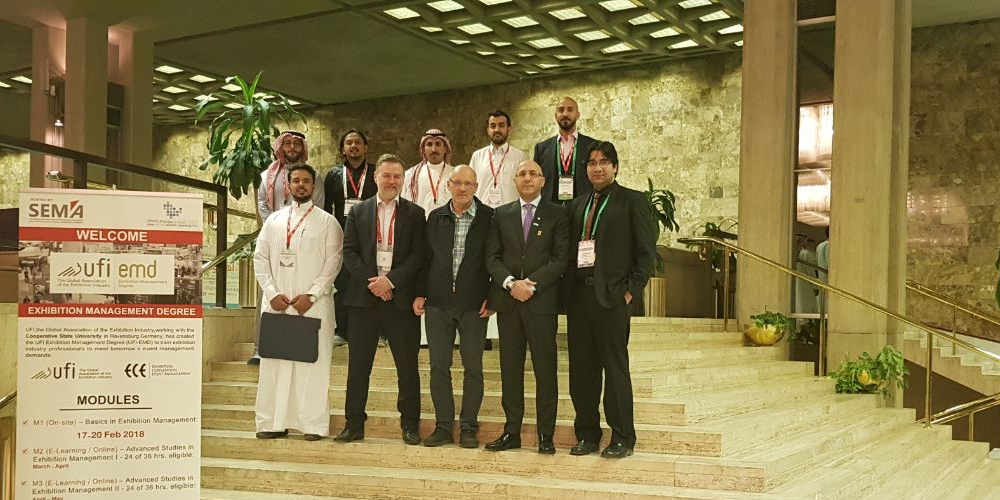 Doha (2017)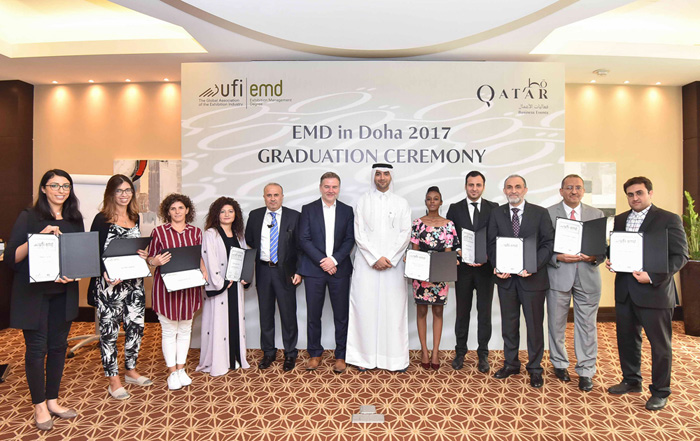 Bangalore (2015)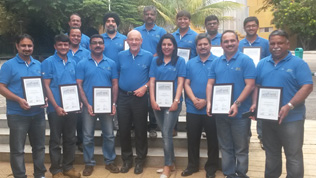 Bangkok (2014)