Onwards & Upwards: People, Planet, Profit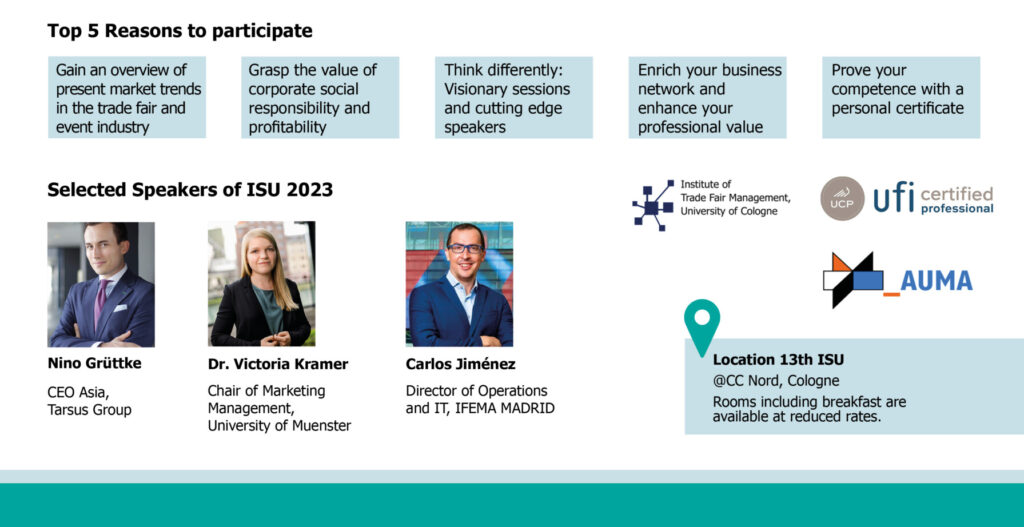 The ISU offers….
Annually changing focus
2 intensive days of lectures, discussions and networking
Top-class speakers
Highly interactive workshops and industry case studies
What do you get at the end?
A prestigious certificate signed by the responsible university professors and the UFI President.
This education programme is part of the UFI Certified Professional designation and grants 16 UCP credits.

Become a UFI Certified Professional
11th ISU – 2019
Transforming Exhibitions: Core competencies of tomorrow's matchmaking
"Personally I am very grateful to have attended this year's  International Summer University.  Such a relevant and high-class programme to bring together trade fair professional from around the world. The ISU gave me the opportunity to gain insights into the latest ideas and solutions on effective matchmaking strategies and I got to exchange with fantastic speakers. The best practice examples displayed solutions that I can implement in my day-to-day work. I also very much appreciated the networking opportunities with my international colleagues, crucial for exchange and to help spark new ideas. ISU delivered this and much more…!" Csaba Vörös, Exhibition Director at HUNGEXPO – GL Events, Hungary.

"Match-making is becoming increasingly important for the success of an exhibition: trade fair organizers are no longer just to sell spaces and services but to bring together the offer with the most qualified demand possible. ISU 2019 gave me the opportunity to listen to experiences from international speakers and to confront myself with a class composed of a very high-level group. The information I learned in three days increased my personal knowledge of match-making and certainly improved my future work. ISU means education, experience, networking." Alessio Fineo – Project Manager Deutsche Messe, Italy.
"As a first-time attendee, I was not sure what exactly to expect from the International Summer University (ISU). Now that I'm back at work, I can say that it was a very good decision to have taken part in these three days in Cologne. I've got to know new people from the other trade fair venues with similar challenges and the exchange with them was very valuable for me. At my project, the cybersecurity summit Command Control, we're about to install a whole new and diverse matchmaking offer for our attendees and I brought back some input and new ideas on how to make it a success. I can really recommend the ISU to my fellow exhibition industry peers and hope they get a chance to attend!" Christina Rabl, Conference Manager Command Control, Messe München, Germany.

About the Event

With excellent speakers, university professors, marketeers, ADR professionals and a dream crowd of participants, the 2019 International Summer University was a great success.
The first day of the ISU focused on the changing ecosystem that we operate in, how it affects our industry and how it impacts our success stories. A workshop on agile leadership concluded the day at the Incube8 of Koelnmesse offering great icebreaker for the networking Dinner at KoelnSKY.
Ready to re-inventing our matchmaking strategy, the second day offered plenty food for thought. Lectures, presentations, best practice examples and role-plays kept the participants and speakers on their feet. #bacteriamarketing #opensourcemarketing #contentcreator #startups #negotiation #harvard #venuetour
Tried and Tested: The 11th ISU concluded with excellent best practice examples from outside of the exhibition industry to spark ideas on how to learn from one another. #AI #digitalinnovation #personalchemistry
10th ISU – 2018: Engine of Change – Unleash Digital Potential to Drive Innovation and Sales
9th ISU – 2017: Cutting-Edge Services – Tipping the Scale for Exhibition Success
8th ISU – 2016: Customer Journey – Touring the Trade Fair Touchpoints