Target Group: Mid to senior representatives from exhibition organizing companies
Dates: 28 September – 23 October 2020
Language: English
Format: Online (10 sessions: presentations and group work)
For more information, please contact ems@ufi.org.
*Prices displayed exclude VAT
Register here
UFI-EMS brochure
About
The UFI Exhibition Management School (UFI-EMS) is a continuum of the Exhibition Management Degree that UFI initiated and has been organizing since 2007.
UFI and MBB-Consulting Group (MBB) are working to provide this new industry education programme for exhibition organisers: the UFI-Exhibition Management School (UFI-EMS). In the years to come, this collaboration will respond to a clear demand for high-level, focused quality education and training for the global exhibition industry.
The curriculum was developed jointly with the UFI community, making it a programme designed by exhibition organisers for exhibition organisers.
Topics include:
Budget and P&L
Customer Care & Operations
Cross-Channel Exhibition Marketing
Digital Innovation
Global Business Development
Human Resources & Leadership
Sales
Strategy Creation and Development
Faculty
Delivered by a faculty of industry experts, the UFI-EMS will combine both global insights and regional expertise – following the clearly articulated need for education that adapts a global curriculum to the specific regional and local needs.
The first UFI-EMS will offer valuable insights to the Asia-Pacific region and the trainers include:
Matthias (Tesi) Baur – CEO  Founder at MBB-Consulting Group
Natalie Campbell-Reid – Content Lead – Explori
Eddie Choi – Managing Partner at Mills Singapore
Fleur Kearns – Vice President, Human Resources, APAC at Reed Exhibitions
Chris Kilbee – Executive Director, ASEAN at Informa Markets
Satyendra Mehra – Group Director and Member of the Management Board at NürnbergMesse India Pvt. Ltd.
Je Choong Yip (JC) – Senior Vice President Commercial at Reed Exhibitions Asia Pacific
Global certification
Graduates from the UFI-Exhibition Management School will receive a globally recognized Certification for Exhibition Management.
Key supporters (task force)
UFI and MBB worked with an exhibition industry task force, made up of senior members from different exhibition organisers across all UFI member regions.
Abu Dhabi Convention & Exhibition Bureau (Suhaila Al Munthari), ATEX (Maged Mahfoud), Bolonga Fiere S.p.a (Giorgio  Contini), Comexposium (Laurent Noel), Cooperative State University BW  (Joerg  Beier), Diversified Australia (Siro Anemogiannis), Espacio Riesco (Sergio Gutierrez), Fiera Milano (Enrica Baccini), Fresh Montgomery (Lori Hoinkes), GL Events China (Jor Zhou),  Kuwait International Fair Co. (Abdul Rahman Al Nassar), La Rural (Juan Pablo Maglier), Messe Munich India (Bhupinder Singh), Montgomery West Africa (Alexander Angus), Nuernberg Messse (Satyendra Mehra), Reed Exhibitions Japan (Yoshi Tanaka), Reed Exhibitions Alcantara Machado (Alinne Rosa), Reed Exhibitions (Richard Mortimore), Riyadh Exhibitions Co. Ltd.  (Edward Rabbat),  Stockholmmaessan (Cecilia Henningson), Tarsus Mexico (José Navarro Meneses),Informa Asia (Margaret Ma).
Testimonials
"Participating in UFI's education programme was very valuable as it gave a thorough inside into the way the exhibition industry works. The trainers on the course were experts in their fields and brought a wealth of knowledge." Corporate Marketing & Communications, Dubai World Trade Centre.
"Earning my UFI exhibition management certification has helped me to better understand current trends that affect my business. Having in peer discussions with different participants and trainers was a value lesson for communication and offered plenty of time for networking". General Manager, ZZICEC, Zhengzhou, China.
"UFI education – A great experience. The programme offered an extensive education of high quality, including all important topics that are unique for the exhibition and event industry. The knowledge and experience gained during the programme has helped me greatly when dealing with both practical as well as strategic challenges. I recommend this course to anyone who wants to gain strategic insights and knowledge in the exhibition industry. " Project Manager, Adforum Ab, Finland.
UFI- EMD Graduates
Muscat (2020)

Macau (2018)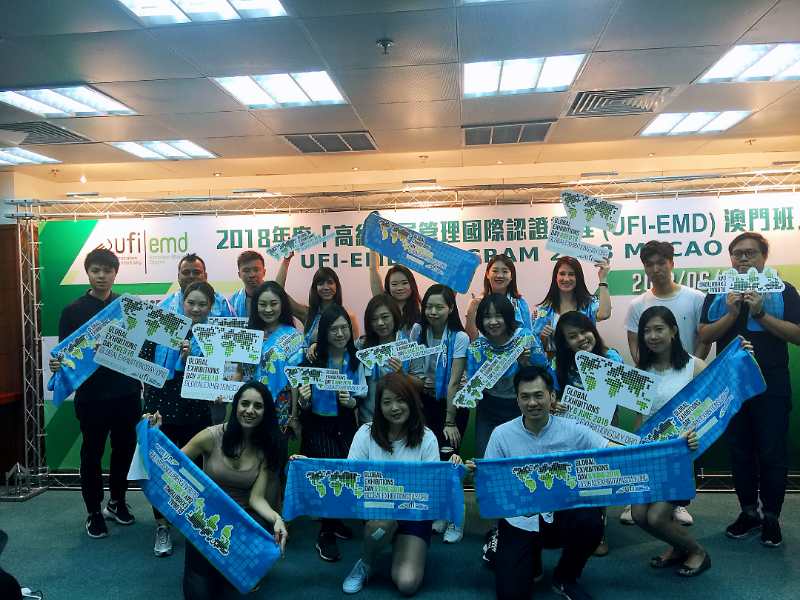 Riyadh (2018)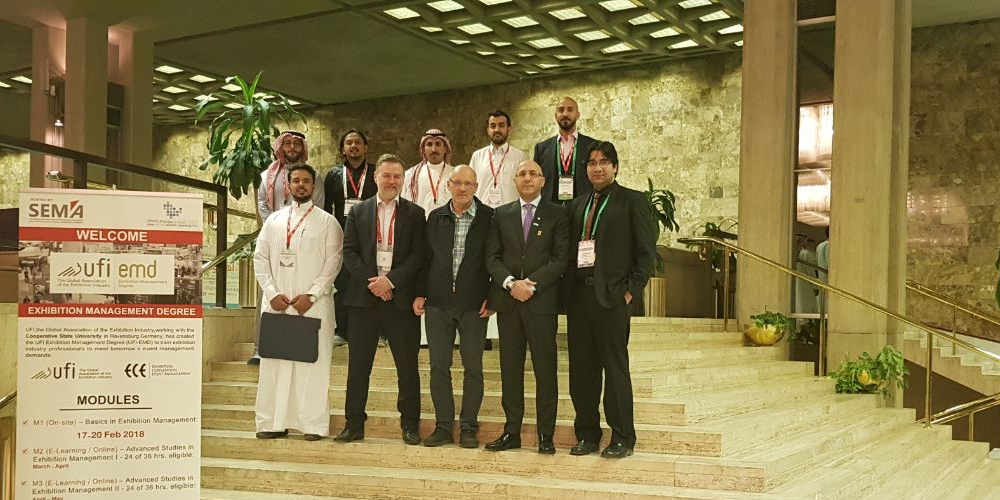 Doha (2017)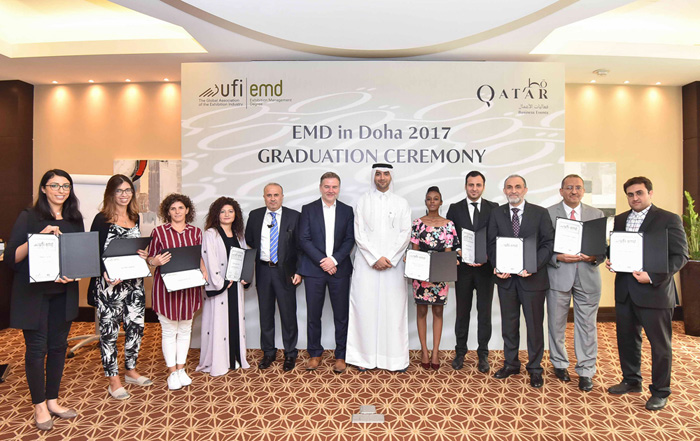 Bangalore (2015)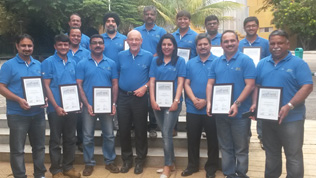 Bangkok (2014)