UFI is synonymous with quality in the exhibition industry, and in fact the UCP programme is a response to many of our members asking for such a certification of their UFI education. A professional designator associated with UFI is a symbol of quality, expertise and innovation, and it signals to employers and others within the industry that the holder works to a high standard and expects the same of others.
UCP Participant Guide
"The UFI Certified Professional path has given me the opportunity to grow my understanding of the exhibition industry in an international context. I am very grateful to UFI for giving me the chance to meet with international colleagues from whom I learned a lot! I also appreciated the self-paced modular trainings of the UCP that I could complete in my own time. Even with more than 20 years of industry experience, I was able to expand my knowledge and share my expertise. I am grateful and very, very happy."
Antonieta Gámez Sánchez, CEO of Centro Citibanamex (Mexico); UCP graduate 2022.
The benefits of becoming a UFI Certified Professional
Tailor your educational experience to your areas of interest
Fill your knowledge gaps and expand your expertise
Stay at the forefront of the exhibition industry with the most up-to-date training
Improve your employability and/or your value to your current organisation
Make valuable connections with others in the industry
How UCP works?
UCP consists of two parts: the foundation programmes and the specialisation modules.
The foundation programmes consist of UFI's most popular existing educational offerings, namely Venue Management School and the Exhibition Management School.
The specialisation modules are more specific, topical offerings that allow participants to tailor the UCP experience to their area of expertise or interest. All training courses have been carefully vetted and approved to serve under the UCP umbrella.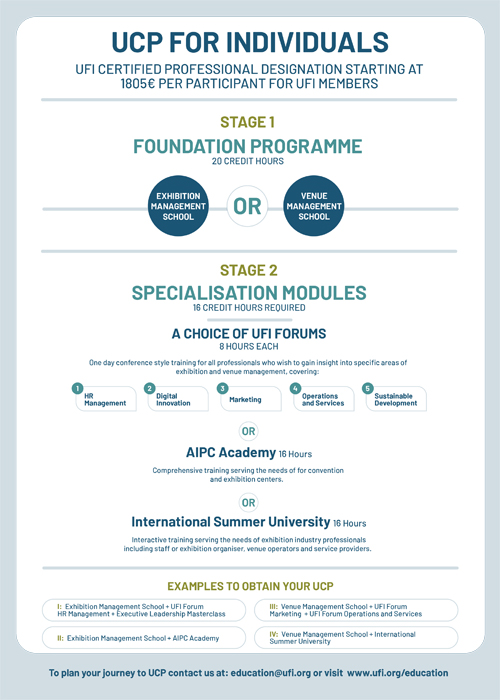 For more information, contact education@ufi.org.